Summer's hottest cocktails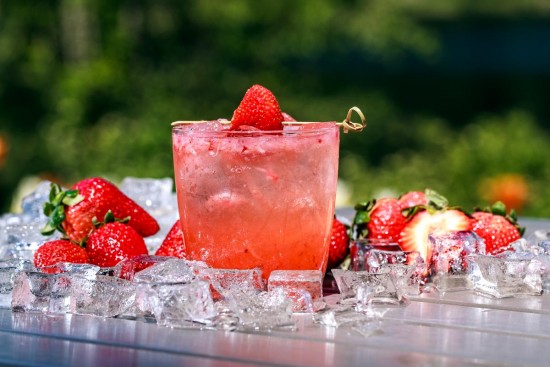 Summer's finally here! We're keeping things sweet (and savoury) with three cocktails you can make at home to enjoy at a garden party, barbecue or just sip on your patio at sunset.
Get fresh – OPUS Bar's Basil Gimlet
Basil is not just for pasta and salads – add it to your drink for a refreshing burst of colour and flavour. It's a perfect pairing with gin and you can make a simple syrup by combining one cup of sugar with half a cup of water and half a cup of basil leaves: boil, simmer and sieve into a sealed jar so you can use it all summer long.
2oz Tanqueray
1oz basil simple syrup
1oz lime juice
Fresh basil leaves (a few to be shaken in)
Shake everything over ice, then serve on the rocks and add a basil leaf  to garnish.
Keep it zesty – Hawksworth Restaurant's Untitled
Hawskworth Restaurant's Head Bartender Cooper Tardivel created this citrusy delight as a modern way to get some of your seven a day. Use lime or lemon juice if you can't find Japanese yuzu – green pepper zest adds a splash of colour and a quirky garnish for your cocktail.
.75oz Cynar
.75oz Cachaca
.5oz Amantillado Sherry
dash Yuzu juice
.75oz fresh pineapple juice
Shake all ingredients then strain over ice and garnish with fresh green bell pepper zest.
Spice it up – Nita Lake Lodge's No Sympathy
Strawberries scream 'summer' and this juicy cocktail spices them up with a kick of haberno bitters to inject some fire into this tequila-based treat. Even if you don't have the lodge's lakeside view this drink will transport you to a sunny place!
Muddled strawberries
1.5 oz Tequila
.5 oz Triple sec
.5 oz Lime
4 dashes Habanero bitters
.5 oz Sugar
Dash of soda
Shake, pour over ice in a rocks glass and serve with a strawberry garnish.