Drink of the Week – Guilt & Co.'s 'Strange Love' Cocktail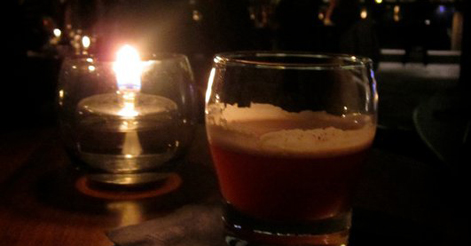 This vintage Gastown nightspot seems to be all the rage with its impressive beer list, delicious cocktails of house-crafted bitters, tinctures and garnishes and the (believe it or not) 'game menu', offering each table a selection of top favourite games like Clue and Scrabble. One of their biggest crowd pleasers is the life-sized Jenga in the backroom area where people can mix and mingle as they play this popular childhood game. Another fun aspect that we love is the 'Music Roulette' – live one-of-a-kind independent bands that perform on Thursday, Friday and Saturday nights that really get the crowd in good spirits.
This week's Drink of the Week is Guilt & Co.'s 'Strange Love' cocktail. Tying into Valentine's Day we just had to try this one out and were pleasantly surprised with this smooth concoction of blueberry infused Belvedere vodka with an aphrodisiac tincture of lemon and goat weed, topped with grenadine foam. Next time you stop by try one of their aphrodisiac cocktails or one of their other fun sippers, some of which come with a Polaroid picture of you and your friends!
Guilt & Co.
1 Alexander Street (below Chill Winston), Vancouver BC