Easter hot list – Le Creuset rainbow egg cups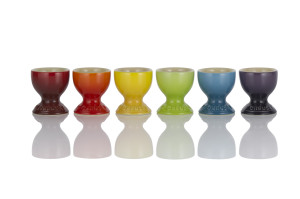 Brighten up Easter brunch with Le Creuset Canada's newest Rainbow Set of 6 Egg Cups ($49.99). It comes in an elegant gift box and available in signature Le Creuset colours: Cherry, Flame, Soleil, Marseille, Cassis and new for 2014, Palm. A delightful way to serve eggs for any occasion, they are crafted from premium stoneware and their colour enamel will protect from stains and scratches meaning they can be treasured for years to come.
If you want to get creative, Le Creuset offers natural egg dye recipes. Add some sunshine to the table by combining water, vinegar and turmeric to make naturally dyed eggs in Soleil. For more colour recipes visit lecreuset.ca/homepage/easter-naturally.