Summer Nights Filled With Music Return To The South Okanagan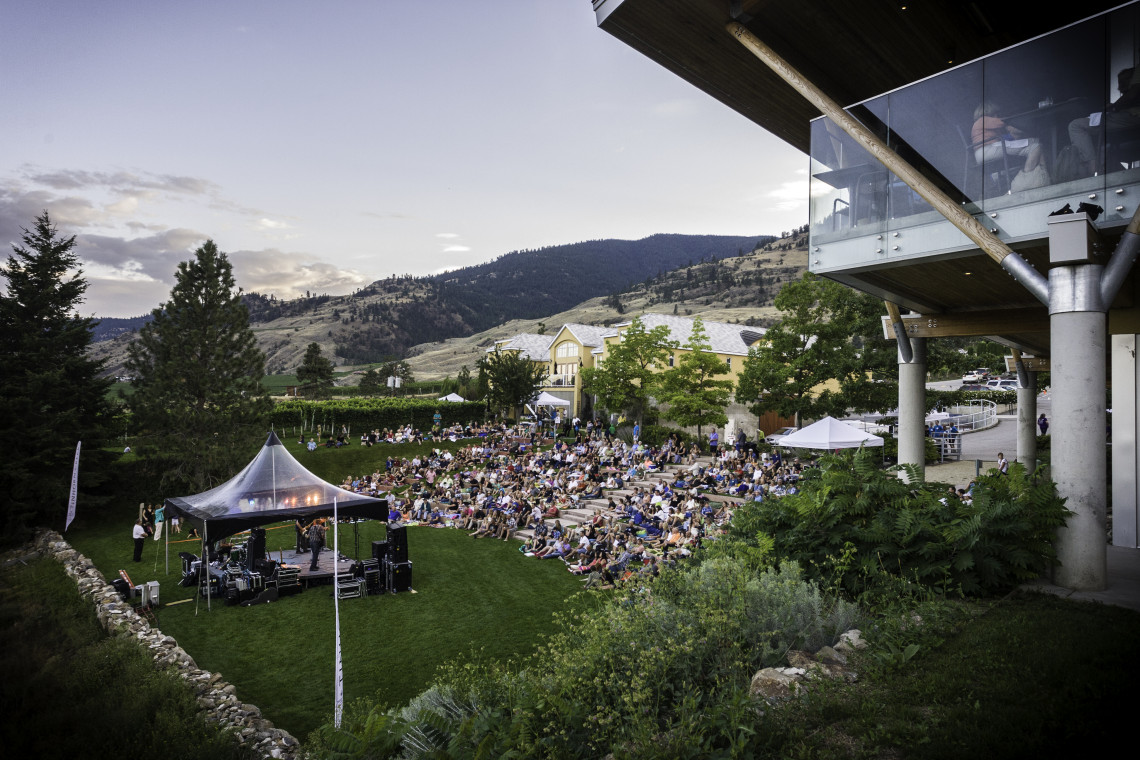 Tinhorn Creek Vineyards is pleased to announce that their Canadian Concert Series is returning for 2015 with a stellar line-up of musical artists gracing the picturesque amphitheatre stage, including Yukon Blonde, Rich Hope & His Blue Rich Rangers, the John Welsh Band and Reuben & The Dark. The much-anticipated annual event is a rare opportunity to see some of Canada's top musical talent while enjoying award-winning wines and taking in the spectacular views of the South Okanagan Valley.
New for 2015, Tinhorn Creek Vineyards is partnering with The Watermark Beach Resort to provide a preferred rate for those attending the Canadian Concert Series, which is perfect for out of town guests looking to experience the beautiful South Okanagan. The promo code is simply: Tinhorn. Guests who book this rate will also receive a complimentary bottle of Tinhorn Creek wine upon arrival to their suite.
Tinhorn Creek's outdoor amphitheatre sits atop the winery's hillside overlooking the famed Golden Mile and is a one-of-a-kind venue for dancing the night away under the stars. Kicking off on May 23, the 2015 Canadian Concert Series features Rich Hope & His Blue Rich Rangers ($30) bringing their unique brand of blues and rock to the stage. OnJune 27 the John Welsh Band ($30) will grace the stage with his songs inspired by his travel experiences which blends elements of folk, surf rock, reggae and latin followed by Calgary's Reuben & The Dark ($40) on July 25 playing anthemic indie music that features finely-textured harmonies. Then on August 22 Kelowna's own Yukon Blonde ($45) will be jamming in the vineyard with their quintessential brand of indie music.
Perched on the picturesque Tinhorn Creek Vineyards estate, the award-winning team from Miradoro Restaurant will also be preparing BBQ food options for concert-goers during performances. Tinhorn Creek wines will also be available by the glass or bottle. Each event features a pre-concert reception for Crush Club members.
Tickets to the Canadian Concert Series go on sale April 1 and season tickets are just $115—see the first four concerts in the series for the price of three. The Grand Finale is planned for September 12 with the headliner of the summer to be announced in April. All concerts start at 7:30pm (gates open at 7pm) and shuttle buses will be available from Penticton and Osoyoos to and from Tinhorn Creek Vineyards on concert nights for $20. Bookable at www.tinhorn.com/concerts
Tickets can be purchased via Tinhorn Creek's online store or by telephone:
Online store: http://www.tinhorn.com/concerts
Phone: 250.498.3743 or 888.484.6467