TIFFANY & CO. CELEBRATES INDIVIDUAL STYLE IN FALL 2017 CAMPAIGN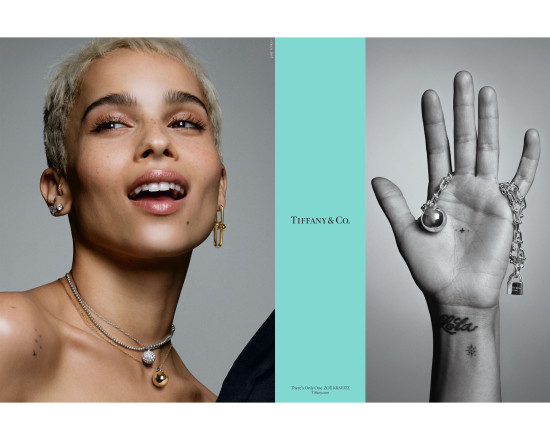 New York, NY – August 3, 2017 – Tiffany & Co. today announced its fall 2017 advertising campaign, "There's Only One," celebrating the power of individuality and self-expression. The campaign brings together six personalities from diverse disciplines, each chosen for their singular style, personal strength and imaginative vision.
"Tiffany has always stood for the ideals of creativity, passion and optimism," said Reed Krakoff, chief artistic officer, Tiffany & Co. "These portraits epitomize individuality, embracing the natural beauty and unique style of each talent."
The fall campaign represents Reed Krakoff's first creative expression for the house. Tiffany's creative team led by Krakoff, called upon acclaimed fashion photographers Inez & Vinoodh to capture the distinct portraits as well as behind-the-scenes video, each styled with iconic Tiffany jewellery:
Actress Elle Fanning makes statement in multiple Tiffany Keys.
Principal dancer for the Bolshoi Ballet and America Ballet Theater David Hallberg portrays a picture of contrasts wearing the Tiffany & Co. Schlumberger® Bird on a Rock clip.
Actress, singer and model Zoë Kravitz wears the latest Tiffany HardWear designs and Return to Tiffany® pendant in a bold new way.
Tapping into her timeless and innovative style, singer, songwriter, record label executive, and Oscar®-nominated actress Janelle Monáe showcases a return to Tiffany® classic heart pendant as well as stacks of Tiffany HardWear rings.
Cameron Russell, an American supermodel and activist, is featured wearing Tiffany T two rings and Elsa Peretti® Diamonds by the Yard®.
The Tiffany Victoria™ is elegantly worn by musician Annie Clark, also known by her stage name St. Vincent.
The campaign reflects the personal style and influence of the men and women who have worn Tiffany jewellery throughout the brand's 180-year history. These images will appear in print and video, as well as across social media platforms under the hashtag #TheresOnlyOne.
Founded in New York in 1837, Tiffany & Co. is the world's premier jeweller and America's house of design. An iconic brand with a rich and storied heritage, Tiffany is a global manufacturer and retailer of jewellery and luxury accessories. The company operates more than 300 TIFFANY & CO. stores in 28 countries. Please visit us at Tiffany.ca.
TIFFANY & CO., T&CO., TIFFANY, TIFFANY & CO. SCHLUMBERGER, TIFFANY HARDWEAR AND RETURN TO TIFFANY® are trademarks of Tiffany and Company and its affiliates.
ELSA PERETTI AND DIAMONDS BY THE YARD ARE TRADEMARKS OF ELSA PERETTI.
@TiffanyandCo #TheresOnlyOne