The Obakki Foundation launches The Essentials Collection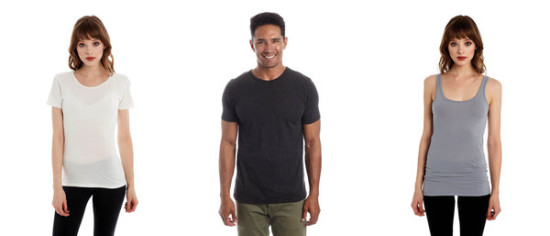 November 9, 2017 (Vancouver, BC) – Style is built on basics – from the perfect black t-shirt to the classic white tank – and with the launch of 
The Obakki Foundation's Essential Collection
, they also build something much bigger.
Coming in six colour options, and various styles for men, women and children, The Essentials range of tops start at $39 with one hundred per cent of the proceeds from the collection going toward the essentials of life, such as water, food, shelter, education and medical care, to people in South Sudan, Uganda and Cameroon. So that t-shirt is not just a staple, it's providing one.
Since 2009, more than two million people have been helped through the purchase of The Obakki Foundation garments. Founded by Vancouver-based fashion designer Treana Peake, the Foundation continues to grow with the launch of the Essentials Collection; a responsible choice made from recycled, 100% organic cotton, using a landfill-free, low-carbon footprint and holistic manufacturing process. All the garments are made in California and the t-shirts are created using a high-quality, low-impact garment dye process to minimize effects on the environment.
"When you buy an item from The Essentials collection, 100% of net proceeds will benefit the most vulnerable people in profound ways," says The Obakki Foundation founder Treana Peake. "The Essentials empowers you to change the world through every purchase. Our lives take on a deeper, transformative meaning when we impact the lives of others. You choose your look and your causes with intention. And your contribution matters."
The Foundation's sustainable clean-water solutions transform communities in South Sudan, Uganda and Cameroon, from a state of desperation to self-reliance. Overall health improves, children can attend school, and income generation from gardens becomes possible. Agriculture initiatives, including seed co-ops and vocational farms, promote food security while addressing nutritional deficiencies. The Foundation partners with orphanages and schools to ensure secure and durable shelter, while investing in education to break the cycle of poverty. Obakki's on-the-ground teams also ensure that the communities have access to proper sanitation, nutrition, medical and emergency care.