Obakki Foundation delivers life-changing opportunity to travel to Cameroon, Africa with founder Treana Peake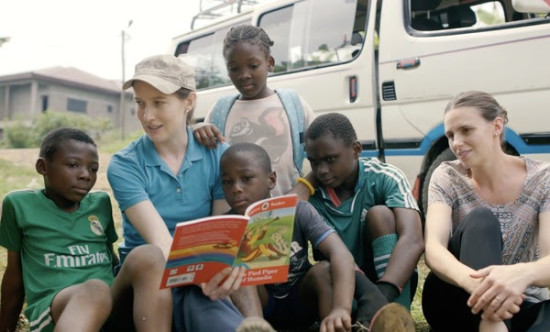 For those who want to make a difference the Obakki Foundation's Live With a Purpose campaign presents a life-changing opportunity: travel to Cameroon, Africa with founder, Treana Peake, as she visits schools, orphanages, farms and communities where her work over the past 25 years continues to impact and transform lives.
"We're so excited to offer this incredible journey as part of our fourth annual Live With a Purpose campaign," says Treana Peake. "I know the profound impact that visiting these places has had on my own life and I look forward to sharing this experience with others and to giving them the opportunity to see first-hand how their fundraising dollars make such a real difference."
Now in its fourth year, the Obakki Foundation Live With a Purpose campaign has raised over $100,000 to fund projects throughout Africa, including the building of clean water wells and supporting education and agriculture initiatives. The campaign inspires and engages individuals from around the world to collectively fundraise for the cause, by offering the chance to win an all-expenses paid philanthropic mission to Africa; for every $500 raised, supporters will receive one entry into a draw to join the mission, with a trip for two awarded to the individual who raises the most throughout the set fundraising period – March 1st to July 31st 2018.
Sally Kahlbetzer (pictured above) from Sydney, Australia who travelled in 2016 said "I was surprised to make such meaningful and strong connections with other people in such a short space of time, from the people I was traveling with to the locals we encountered, I loved every minute of my experience in Cameroon and would go back in a heartbeat."
Cheryl Shatford from Halifax, Canada described a visit to St. Valentine's Orphanage in 2015 as "very touching" noting "some of the children have been there for many years and have grown up with Treana, who visits twice a year. Treana is a part of their lives and one of the most remarkable people I have ever met; I wish everyone could experience this and broaden their perspective."
The Obakki Foundation offers individuals the chance to make a difference in 2018, to turn passions into opportunities to change lives and to see first-hand the impact that donations from baking cakes, running marathons or hosting friends can truly make.
To learn more about the campaign, sign up to join the community and download a participant package that includes ideas, tips and templates, visit www.obakkifoundation.org/campaign/live-with-a-purpose.