MAKE A DIFFERENCE THIS MOTHER'S DAY WITH CAUSE WE CARE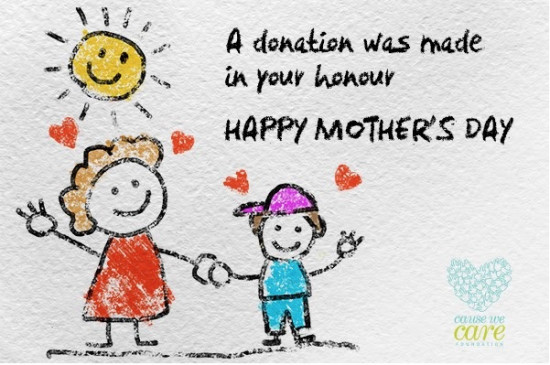 Vancouver, BC (April 18, 2018) – Cause We Care invites the community to give back this Mother's Day with the 7th annual Cause We Care Mother's Day Care Package Drive. The foundation's goal is to deliver 425 Care Packages filled with everyday essentials and thoughtful gifts and tied up with hope to mothers in need across the Greater Vancouver area.
This year, Capital Direct has generously pledged to match all donations meaning every dollar received will go twice as far and reach twice as many single mothers in need. To date, with the help of volunteers and frontline organizations, Cause We Care has provided relief to over 2,200 single mothers across the lower mainland over the last seven years since the initiative began.
"We look forward to the Mother's Day Drive every year, not only to celebrate our own mothers but to lend a helping hand to those in our community who are facing hardship," says Andrea Thomas Hill, founder of Cause We Care Foundation. "There are so many incredibly courageous single mothers doing their best to ensure their children have the best possible start in life, and we want to support them in every way we can."
"It is an honour to be able to contribute to such an important cause and make a difference in the lives of women and their families in our community," says Richard Nichols from Capital Direct. "We are looking forward to working alongside Andrea and all the dedicated volunteers that make this initiative possible every year."
To donate to the Mother's Day Care Package Drive visit www.causewecare.org and choose from a selection of personalized e-cards available to honour Mother's Day.
Bracelets from the Blue Ruby x Cause We Care collection also make for a perfect Mother's Day gift and are available from all ten Blue Ruby locations. Visit www.blueruby.com for details. 100% proceeds from the bracelets and the Mother's Day Luncheon on May 11 support the Foundation's ongoing investment in childcare services, education and job training programs for mothers and their children in need.
For volunteer opportunities, please contact info@causewecare.org.