Bel Café introduces glass jars for tasty to-go dishes adding freshness and reducing waste to landfills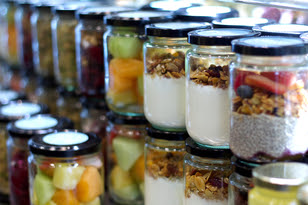 Bel Café is proud to be replacing single-use plastic containers with reusable glass jars, for a selection of to-go menu items delivering a fresher, safer alternative to customers, while also protecting the environment by reducing waste to landfills. As an added incentive to encourage jars to be returned and reused, guests receive $1 off their next purchase with the return of their jars.
"Not only are the jars a much more sustainable option and free from harmful toxins found in some plastic containers, they're also better for preserving freshness and improving taste" says chef and owner David Hawksworth. "Serving our take-away dishes in glass jars ensures the same – if not elevated – quality in each of Bel's delicious dishes and allows our customers to know they are making environmentally sound dining choices."
Dishes now served in glass jars include healthy breakfasts, such as a housemade chia pudding ($9.2) and vanilla yogurt with toasted granola ($6.2) or fresh-made fruit salad ($6.9). Hearty salads such as the beet, fennel & goat cheese salad ($7.1) and Bel's latest seasonal creation, buckwheat soba noodle salad with miso, pickled shitake and peanuts ($7.1) are also served in jars for a healthy lunch on the go, while their coconut panna cotta ($5.5) or lime meringue verrine ($5.2) are desserts guests can feel good about as an eco-conscious choice.
Bel Café's new glass jar program is available now at the popular downtown café at the corner of Georgia and Howe and will soon be available at the new Kitsilano location, opening at Burrard & 3rd Avenue later this Spring. A selection of Bel take-away items can be pre-ordered for pick up at www.belcafe.com while dishes for boardroom breakfasts and lunches can be booked at www.hawksworthcatering.com or by calling 604.605.3325 (ext. 1) where our dedicated events team will be happy to assist.