Celebrate the arrival of spring with new Blue Ruby x Cause We Care
100% of proceeds from the bracelet collections benefit single mother-led families and their children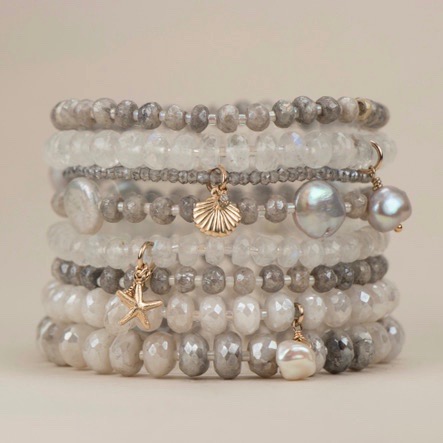 Give back this spring with the latest collection from Blue Ruby x Cause We Care, where 100% of proceeds from the beautifully handcrafted bracelets go towards Cause We Care Foundation's programs and initiatives in support of single mother-led families and children in need in the Vancouver area.
The 2019 spring Cause We Care collection draws on elements from our beautiful West Coast, and is anchored by glowing moonstones and silverite beads. Accents such as fresh water pearls and gold filled seashell charms showcase the season's most coveted trends, all the while pairing back to the Cause We Care classics you own and love. A seamless addition to your existing collection of Cause We Care bracelets – available just in time for Mother's Day.
"We are excited to introduce the spring collection and are incredibly grateful to Blue Ruby for their continued support throughout the year," says Andrea Thomas Hill, Founder of Cause We Care. "These bracelets make for wonderful gifts and help Cause We Care Foundation carry out initiatives that empower single mothers and their children."
Bracelets retail between $35 and $85 and are available at all 11 Blue Ruby locations, including Hill's of Kerrisdale and Hill's Dry Goods Kitsilano, South Granville, and Park Royal. Blue Ruby Jewellery is a longstanding partner and supporter of Cause We Care and continues to bolster the foundation's initiatives, including the annual Mother's Day fundraising luncheon on Friday, May 10 at The Victor Restaurant at Parq Vancouver (sold out for 2019), where the latest collection will be available for purchase. Also in celebration of Mother's Day, a selection of personalized e-cards are available online at www.causewecare.org to go along with a donation or as a paperless option to accompany a bracelet purchase.