Cathay Pacific gives you four-times more inflight entertainment to move you
Feel more with the airline's enriched onboard library and enjoy a true entertainment experience on every flight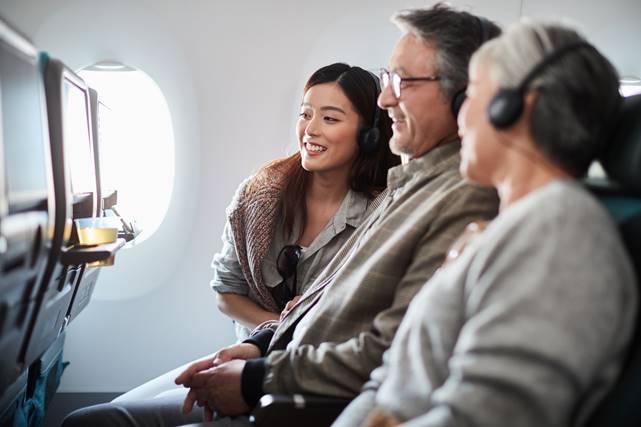 The Cathay Pacific Group is giving customers more of what they love with four-times the entertainment available to discover and enjoy every time they fly.
This significantly enriched inflight entertainment offering epitomises Cathay Pacific's efforts to enhance the customer experience as it continues to fulfil its 'Move Beyond' brand promises.
Passengers can look forward to more newly released movies, more sports coverage, more complete boxsets and more Asian content than ever before. In particular, newly available live coverage of the latest sports events will ensure passengers never miss any of the breathtaking moments from their favourite games when they fly with us.
With all this new video content to enjoy, customers could fly non-stop around the world 45 times and never have to watch the same thing twice, making every flight is a truly unique experience.
Cathay Pacific General Manager Customer Experience and Design Vivian Lo said: "Our passengers are always telling us how much they enjoy having high-quality entertainment when they travel, so we're delighted to be giving them so much more new, exciting content to explore.
"Whether it's laughter, tears, thrills or chills, we want our passengers to experience and feel more from the entertainment they have at their fingertips whenever they fly with us."
All-star Asian content
Cathay Pacific has one of the largest libraries of Asian content of any airline in the world, offering the very best in HD movies, TV collections and worldwide exclusive titles. Passengers can now also explore specially curated collections compiled by renowned celebrities and entertainment experts.
Unforgettable live moments
More good news for sports fans as Cathay Pacific has partnered with channel Sport 24 to offer customers flying on our state-of-the-art Airbus A350 aircraft live coverage of the best sporting events from around the world. Customers can catch the Rugby World Cup Finals live this month. Meanwhile next year, live coverage of the Tokyo Olympics and the Hong Kong Rugby Sevens will be shown, ensuring all the unforgettable highs and lows from these incredible competitions can be enjoyed as they happen even while in the air.
A cinema in the sky
Cathay Pacific passengers can be among the first to see the latest blockbuster films from around the world, with a huge number of new movies added every month that are currently – or even soon-to-be – on show in movie theatres. Customers can also delight in our new partnership with streaming service and independent entertainment specialist MUBI. Cathay Pacific and MUBI have sourced remastered classics and films that never made it to your local cinema for you to discover. And, with a huge number of new thoughtfully curated films being added every month, there is always more to explore on your next flight.
From start to finish
Cathay Pacific's comprehensive collection of movie and TV boxsets is getting even better, with a whole lot more complete boxsets available to dive into. Cathay Pacific is one of the first airlines to offer multi-season boxsets, meaning passengers can binge-watch award-winning drama series, starting with the pilot episode all the way through to the latest season finale. Combined with branded channels from the likes of HBO and Cathay Pacific customers can be sure there's always a new series for them to enjoy right from the very beginning.
Cathay Pacific is continuously enhancing the passenger experience, giving customers more ways to make the most of their journey. Notably, the majority of the airline's fleet will be Wi-Fi-enabled by 2020 in addition to having more content than ever before.
To find out more and see what is playing on board, please click here.