Welcome the new decade in style at Hawksworth Restaurant
Indulge in an exquisite tasting menu and lounge party to ring in the new year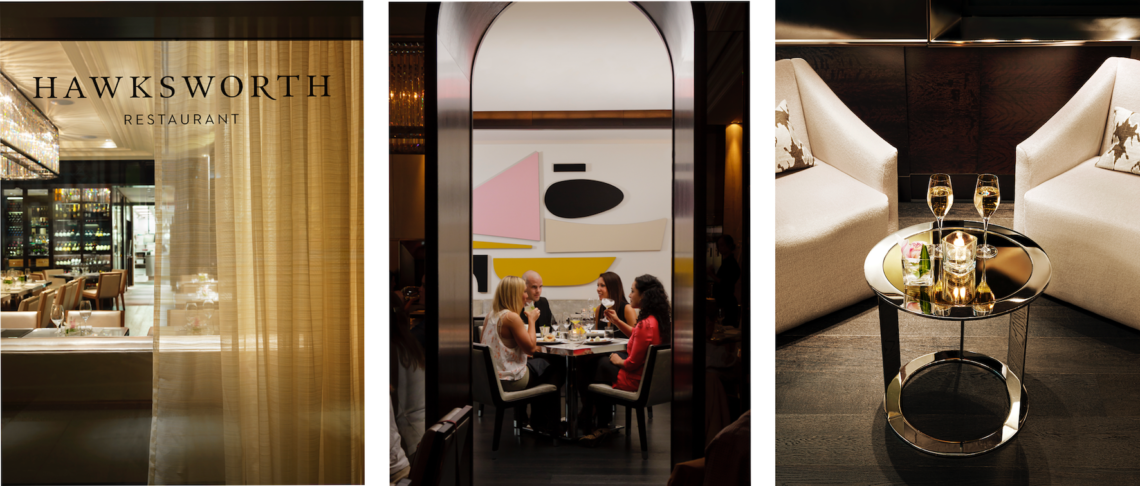 Hawksworth Restaurant is embracing the end of 2019 with an exclusive New Year's Eve tasting menu and celebratory lounge party. Set in one of the city's most elegant dining rooms, end the year with exquisitely prepared food, an extensive wine list and the highest quality of service.
"Gathering together with friends and family for one last meal before the year ends is something Hawksworth Restaurant loves to be a part of, " says Assistant General Manager Johnny Southwell. "The combination of a menu showcasing seasonal ingredients at their finest with a beautiful room filled with celebratory ambiance will make for a memorable dining experience for years to come."
Two seating services are available for bookings on New Year's Eve. The first seating offers reservations between 5pm – 7pm, with a delectable four-course menu priced at $98 per person. The second seating is available from 8pm – 9:45pm, taking guests on a decadent seven course journey for $199 per person.
Conceptualized by Chef de Cuisine Antonio Sotomayor, guests will be offered an exclusive four-course and seven-course menu. To start, a sumptuous oyster, scallop and barbequed lobster dish highlights the flavours of the sea. Fresh caviar ($80) is available to add for the table. A creamy risotto follows, with locally foraged mushrooms. Add truffle ($20/2g) for earthy decadence. The main course features tender Yarrow Meadows duck breast, with sunchoke, bright lingonberry and silky foie gras. For dessert, a luscious black truffle ice cream with dark chocolate and hazelnut. For the second seating, a fresh hamachi appetizer with avocado and coconut snow, sablefish with charred buttermilk and a finish of assorted chocolate creations round out the selection of seven courses.
For the first time, Hawksworth will be hosting a New Year's Eve lounge party in addition to the tasting menu, the ideal spot for the countdown to midnight. From 9:30pm until late for $40 per person enjoy light canapés and party favours, with live DJ Girl on Wax to set the celebratory ambiance. Complimentary access to the lounge reception is included for guests dining during the second seating.
The full New Year's Eve tasting menu can be viewed here.
Tickets for both seatings and the lounge party are available for purchase now until December 31, 2019. For bookings, please contact the reception team at 604-673-7000 or info@hawksworthrestaurant.com. Gift cards are also available for purchase, with every $100 spent receiving a $25 gift card back valid for use in the new year until March 31, 2020. To purchase, visit www.hawksworthrestaurant.com/giftcards, or visit the Hawksworth Restaurant hostess stand for details.