Cause We Care safely transitions important holiday initiatives and asks for help to make the season brighter for those who are struggling in our community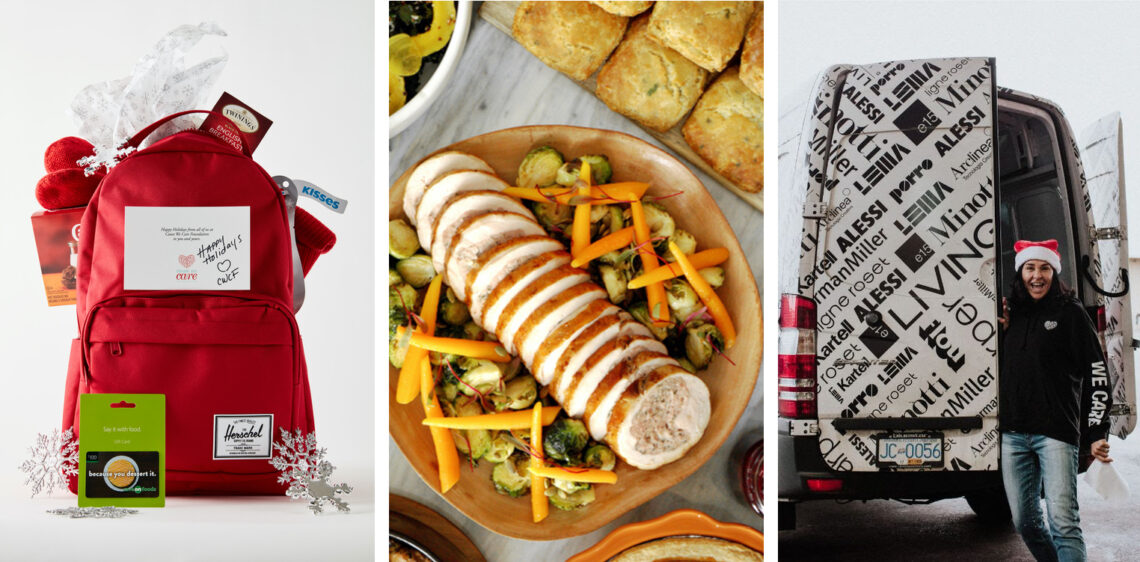 Cause We Care Foundation is pleased to announce that annual holiday initiatives will go ahead this year, despite the challenges posed by COVID-19 restrictions. The goal of the annual Care Package Drive is to fill and distribute 1,000 holiday care packages to families in need across the Lower Mainland. And in partnership with RayCam Cooperative Centre, to provide a festive family meal 'to-go,' to 200 in place of the annual RayCam Holiday Dinner.
"This year, more than ever, we are grateful for our incredible partners and are looking to donors for the same support to help us reach our goal," says Andrea Thomas Hill, Founder of Cause We Care. "The holiday season can be an especially challenging time for many with limited resources – but also a time when acts of kindness can go a long way. Every dollar counts and every donation makes a real difference in the lives of those who are struggling."
Lead sponsor Capital Direct is back this year with a new matching campaign where they will give $1 for every $2 donated on the first $70,000 donated, meaning that thanks to their incredible generosity every dollar donated will go even further. Donate $110 before December 7th to purchase a Care Package (valued at over $250) for a family in need this Christmas and Capital Direct will add to that donation meaning $110 becomes $165 providing further support for families that need it most.
Also new this year, Herschel Supply Company have generously donated 1,000 brightly coloured backpacks to be filled with a $100 grocery gift card from Save-On-Foods (Cambie Street), warm winter mittens and hats from Aritzia, and other essentials and treats like granola bars, tea and chocolate. Cause We Care's annual Care Package Drive would normally bring together more than a hundred volunteers over two days. This year's event has been significantly adjusted to put the health and safety of volunteers and the community at the forefront, while still positively impacting as many families as possible. By providing a $100 Save-On grocery gift card in place of individual items, considerably less volunteers are needed for packing and the Foundation will only require volunteer drivers for safe deliveries.
In previous years Cause We Care's annual RayCam Holiday Dinner for Strathcona residents, including those at Cause We Care House, has brought joy to many. This year, with restrictions on group gatherings prohibiting normal festivities, the Foundation is keen to ensure that those who would normally attend are still able to enjoy a festive family meal and so have partnered with Chef David Hawksworth and his team at Hawksworth Restaurant Group to provide 200 delicious three-course turkey dinners individually packaged 'to-go' for families to celebrate the season at home.
To help Cause We Care reach the goal of assembling and delivering 1,000 care packages to over 35 frontline organizations and to provide festive meals for 200 Strathcona residents, donate online today and bring hope and joy to a family in need. Donations of $125 include a holiday Care Package, as well as a festive family meal. Donations can be made in honour of loved ones or in lieu of holiday gifts with dedicated e-cards delivered to recipients. Additionally purchase from the latest Blue Ruby x Cause We Care jewellery collaboration and 100% proceeds go directly to support Foundation initiatives.
Cause We Care would like to thank all sponsors who are making these important initiatives possible including: Capital Direct for their financial donation, Save-On-Foods (Cambie Street) for the grocery gift cards, Herschel Supply Company for the brand new backpacks, Aritzia for warm winter accessories, Rocky Mountaineer for the packing venue, Livingspace for providing cargo vans for deliveries and Urban Impact for handling recycling from the drive. In addition, thanks are extended to festive dinner sponsor Hawksworth Restaurant Group and media sponsor Global BC.
For more information, to volunteer or donate visit www.causewecare.org
For updates follow @causewecare #singlemotherstrong
Note to media: Supporting image bank accessible here