Oliver Osoyoos Wine Country's Pig Out Trails returns: May 28 & 29, 2021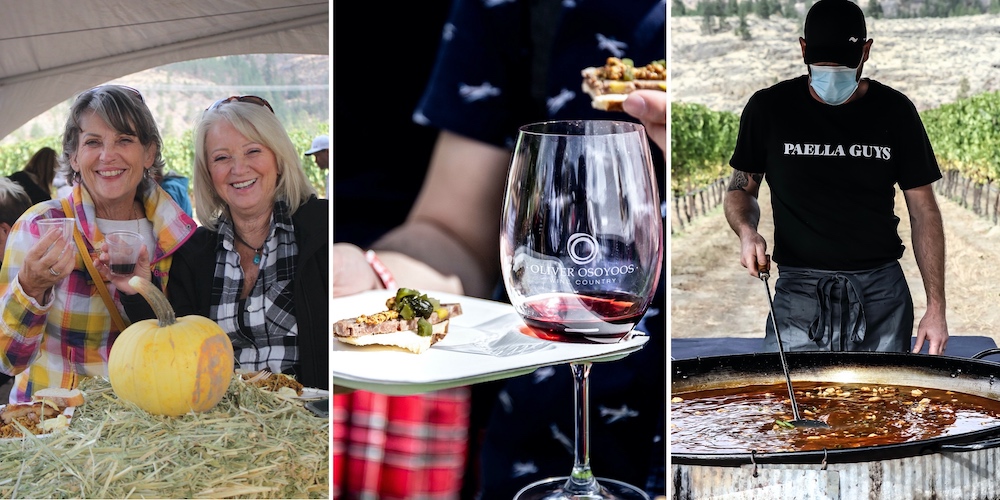 Celebrating its tenth anniversary, Pig Out Trails returns to Oliver Osoyoos Wine Country with an early summer date and a proven format that follows rigorous safety plans, allowing wine lovers to rekindle their love of wine country in a safe and responsible way.
Mirroring the transitioned and successful format of the 2020 event, which saw participants enjoy a carefully tailored, progressive wine touring itinerary with a maximum of 30 guests at any one time, this year's event will be anchored to engaging wine tasting experiences guided by some of the region's most established winemakers, in outdoor settings. The event's format is designed to be flexible in order to accommodate the fast changing nature of the pandemic health and safety regulations.
"We are confident that we have a safe and practical plan in place for this year's well-loved Pig Out Trails, thanks to countless valuable learnings from the past year," says Jennifer Busmann, executive director of Oliver Osoyoos Wine Country. "The health and safety of our guests and local community is paramount and this format was proven last year to allow us to welcome visitors in carefully controlled ways, ensuring that we kept strictly to the social distancing requirements outlined by governing authorities at that time, while continuing our region's legacy of fun, innovative and immersive experiences."
On Saturday, May 29 attendees will board a dedicated bus adhering to recommended safety protocols including mandatory face masks and hand sanitizer, before heading to the first of four winery stops. The event's "Escape the Pen" theme will be interpreted in different and unique ways at each of the 40 wineries that feature along 10 different trails, as they create thoughtful and outdoor tasting experiences, aimed at showcasing their portfolio of wines as well as educating guests in farming and grape growing practises and the art of winemaking. Each stop will also feature a delicious dish prepared by Oliver Eats Ltd., visiting guest chefs, or from select onsite restaurant partners including Terrafina at Hester Creek Estate Winery, Miradoro at Tinhorn Creek Vineyards, the talented culinary team at Phantom Creek Estates and Masala Bistro at Kismet Estate Winery. A popular addition to last year's Pig Out Trails, Vancouver's Paella Guys will return with their innovative take on the event's celebration of nose-to-tail dining at select wineries.
Wineries featuring on the specific trails will be unveiled on the day, adding an extra layer of intrigue to this popular and engaging event, which traditionally adopts new themes and quirky elements every year. 40 wineries will feature on the 10 trails, including Rust Wine Co., CheckMate Artisanal Winery and Road 13 Vineyards on the Golden Mile Bench; Black Hills Estate Winery, Church & State Wines and Platinum Bench Estate Winery on the Black Sage Road Bench; Nk'Mip Cellars, Moon Curser Vineyards and Lakeside Cellars in Osoyoos; Covert Farms Family Estate Winery, River Stone Estate Winery and Jackson-Triggs Estate Winery north of Oliver; and more.
On Friday May 28, two iconic wineries, one on the Black Sage Road Bench and one on the Golden Mile Bench will host Guest Chef Dinners: small, outdoor, multi-course feasts prepared by the Paella Guys alongside other notable local and guest chefs and paired with a range of wines from vineyards nearby. Stay tuned to @uncorkthesun for more information.
Tickets for the Pig Out Trails ($99 per person plus tax) and the Pig Out Guest Chef Dinner ($129 per person plus tax and gratuity) are now available on the Oliver Osoyoos Wine Country website: www.oliverosoyoos.com.
Image credit: Oliver Osoyoos Wine Country; Leila Kwok; Rubén Nava