As Travel Returns, Skiers and Riders Find the Best Deal with Epic Pass; Prices Reduced 20 Percent, Increase Coming Labour Day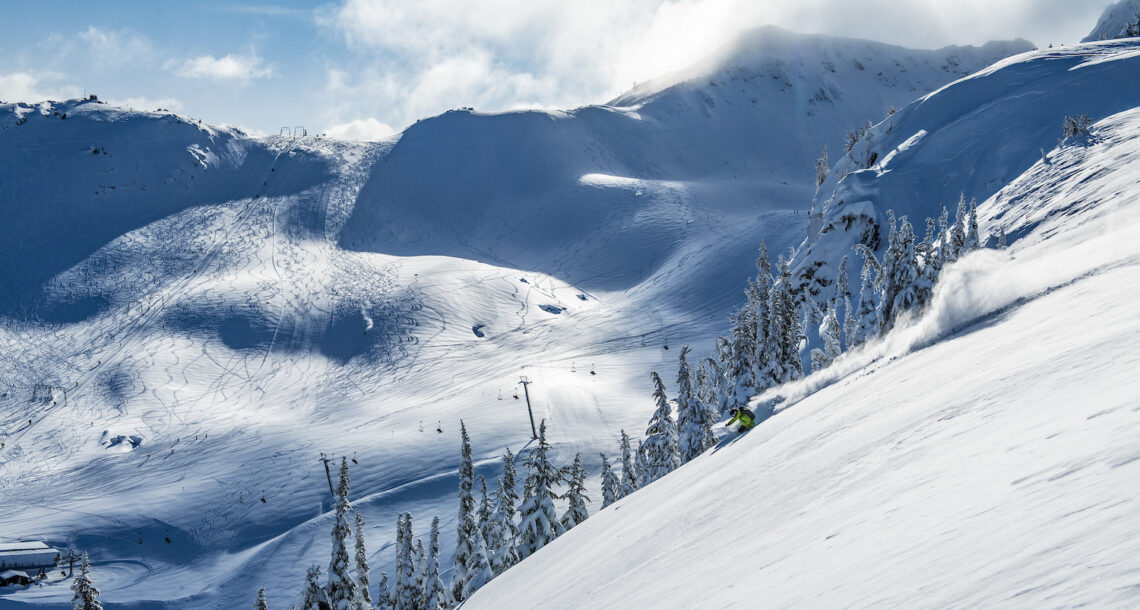 As the winter season draws nearer, so does the last chance for skiers and riders to get the lowest price on the entire suite of 2021/22 Epic Pass products, which saw a major price reduction of 20 percent this year. Labour Day is the last day to get an Epic Pass, Epic Day Pass, or any pass option at the lowest price this year — unlocking access to Whistler Blackcomb, Vail, Breckenridge, Park City, Heavenly, Stowe and dozens of other world-class resort destinations and local ski areas. Skiers and riders can visit EpicPass.com by Sept. 6 to purchase a pass before prices go up.
"We are excited to offer our guests one of the best deals for winter getaways," said Kirsten Lynch, chief marketing officer of Vail Resorts. "With our 20 percent price reduction on all North American passes, everyone can find unmatched value and access, whether they plan to ski or ride one day or every day this winter season."
"In addition to making passes more accessible, we are committed to continuously improving the on-mountain experience," Lynch continued. "Our resort teams are implementing a variety of projects and improvements – from new high-speed chairlifts to exciting terrain expansions – so that skiers and riders of all skill levels have a great time when they hit the slopes. We cannot wait to welcome our guests back to the mountains they love."
The 20 percent price reduction applies to the entire portfolio of the Vail Resorts' North American pass lineup, offering access to resorts spanning the Northeast to the Rocky Mountains to the Pacific Northwest, including Whistler Blackcomb in British Columbia, and limited access to Resorts of Canadian Rockies destinations of Nakiska in Alberta as well as Fernie, Kimberley and Kicking Horse in British Columbia and Mont-Sainte-Anne and Stoneham in Quebec.
Explore all pass options – providing access to local ski areas as well as bucket list destinations – here. Some of the most popular pass offerings include:
• Epic Pass (USD$783 vs. USD$979 last season) provides unlimited, unrestricted access to 34 North American resorts – including Whistler Blackcomb, Vail, Beaver Creek, Breckenridge and Park City – as well as access to many partner resorts including Resorts of the Canadian Rockies, Telluride, Snowbasin and Sun Valley.
• Whistler Blackcomb Unlimited Pass (CAD$1,119 vs. CAD$1,399 last season) provides unlimited, unrestricted access for skiing and riding exclusively at Whistler Blackcomb. Pass holders also receive 50% off lift tickets at other select Vail Resorts properties, and 20% off at select retail stores and on-mountain dining.
• Northeast Value Pass (USD$479 vs. USD$599 last season) provides access to 18 resorts across the Northeast and Mid-Atlantic regions of the U.S., including Stowe, Hunter, Mount Snow, Okemo, Wildcat and more.
• EDGE Card is exclusively available for residents of Canada and Washington State, providing the ability to ski and ride on a flexible schedule with a 2-Day (starting at CAD$175 vs. CAD$219 last season), 5-Day (starting at CAD$367 vs. CAD$459 last season) or 10-Day card (starting at CAD$631 vs. CAD$789 last season) – just CAD$64 per day. Guests can use up to two days with the 5-Day EDGE Card, or up to three days with the 10-Day EDGE Card at Vail, Park City, Stevens Pass and more.
• Epic Day Pass is the best option for anyone who plans to hit the slopes only one to seven days this season. With Epic Day Pass, guests can visit premier resorts like Vail, Beaver Creek and Whistler Blackcomb for as low as USD$87 for one day with discounts increasing as more days are purchased, and – a new option this year – resorts like Keystone, Heavenly and Stowe for as low as USD$67 for one day. With Epic Day Pass, guests can choose the number of days they want to ski or ride, whether or not to have holiday access, and the level of resort access they desire for the upcoming season at an incredible value.
In addition to reducing the cost of accessing the mountains, Epic Pass products provide significant savings on the rest of the mountain experience. Epic Mountain Rewards offers pass holders 20 percent off on-mountain dining, lodging, group ski and ride school lessons, equipment rentals and more at Vail Resorts' 34 North American owned and operated resorts. All passes also include Epic Coverage at no additional cost, providing refunds for certain resort closures and personal events such as job loss, injury or illness.
Image credit: Vail Resorts & Eric Berger