"OMG" Half Corked Marathon tickets released March 23rd at 7.00am PT
Limited spots available for purchase if you are quick!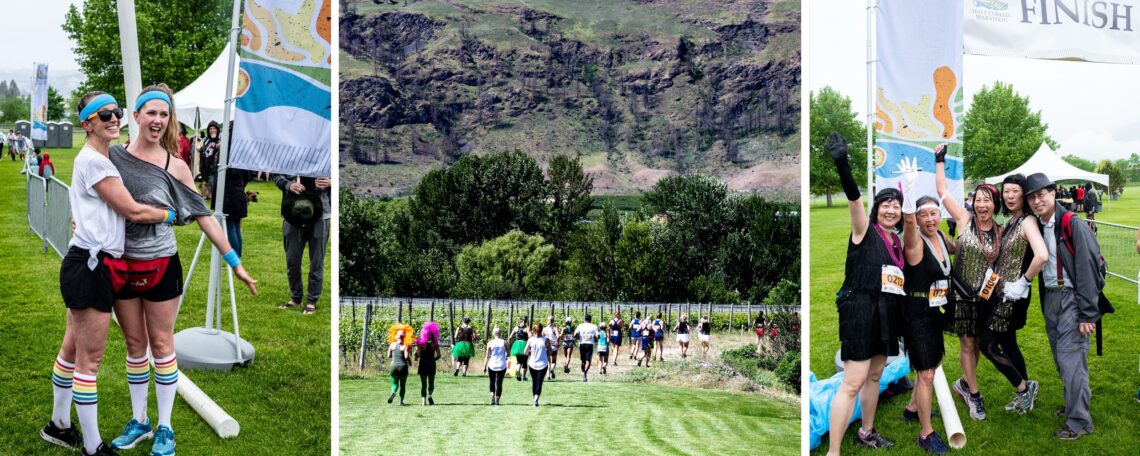 On Wednesday March 23rd at 7.00am PT Oliver Osoyoos Wine Country will be releasing a limited number of "OMG" tickets for the immensely popular Half Corked Marathon, which takes place on Saturday April 23rd, 2022. Tickets cost $249 plus tax.
"Our region is so excited and ready to welcome visitors back with open arms," says Jennifer Busmann, executive director of Oliver Osoyoos Wine Country. "With restrictions easing we are thrilled to be able to offer additional tickets to allow more friendship groups to gather in the beautiful South Okanagan and experience the Half Corked Marathon weekend together."
The Half Corked Marathon welcomes guests to the region's picture-perfect vineyards, offering participants a unique, outdoor wine tasting adventure. The route has been updated this year to include more winery stations than ever before, both along both the Golden Mile Bench and the Black Sage Road, so that participants can sip and savour delicious wines from the region as they run through the vineyards and along the Okanagan river.
Creative costumes are encouraged and prizes will be awarded for the best individual costume, best team and best skit. Participants will complete the route at the Oliver Community Park where the Party at the Finish Line will include picnic packs, more wine tasting and live entertainment. New this year, transportation will be provided to the start line from Penticton as well as Oliver and Osoyoos, included for all guests in the ticket price, opening up more accommodation options for participants.
Limited spots are still available at popular pre-race wine dinner, Primavera ($120pp plus tax and processing fee), taking place in the lush surrounds of Oliver Community Park on Friday April 22, 2022. Vancouver's Paella Guys will prepare a delicious feast for guests paired with wines from vineyards close by.
After the run on Saturday April 23rd, Kismet Estate Winery will host a very special Dinner on the Farm ($150pp plus tax and processing fee), pairing their team's tasty East Indian cuisine with Oliver Osoyoos Wine Country wines.
All Half Corked Marathon weekend experiences will closely follow regional and provincial restrictions and recommendations at the time, in order keep our guests, winery teams and communities safe.
"OMG" tickets will be available online at www.oliverosoyoos.com at 7:00am PT on Wednesday, March 23rd until they are sold. Only one ticket per person permitted.
For more information on the Half Corked Marathon and to purchase tickets to Primavera at the Park and Dinner on the Farm, visit www.oliverosoyoos.com/half-corked-marathon.
Supporting images for media can be accessed here.