CAUSE WE CARE FOUNDATION RAISES $260,000 TO SUPPORT SINGLE MOTHERS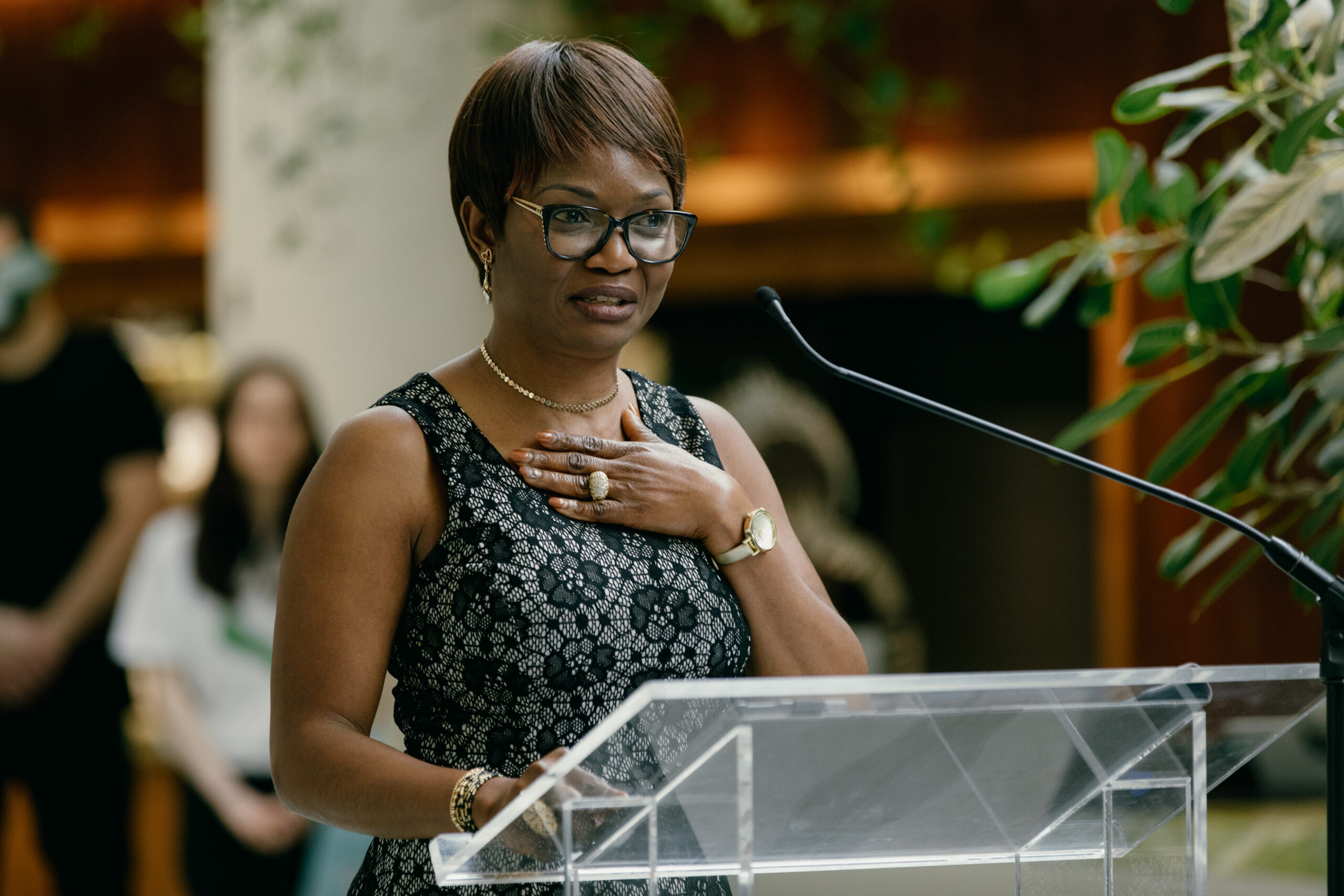 Vancouver, BC (June 15, 2022): Cause We Care Foundation recently gathered friends, donors and corporate partners to join Single Mothers Support Fund beneficiary and guest speaker, Moyosola King, at their annual Mother's Day fundraising event, to hear first-hand about the unique struggles and challenges that single mothers face and to learn how Cause We Care Foundation's Single Mother Support Fund can change lives.
Speaking at the event, beneficiary Moyosola King said, "Responsibilities and lack of funds were challenges that could have slowed me down or stopped me completely but Cause We Care came through and JES Tresses Salon was born. Believe me, getting approved for this support opened up my world again. I saw achievable goals, future opportunities and financial independence. This funding is one of the reasons I stand here today, a graduate from school at age 49, an independent single mother of three, a business owner again, and on the path to financial freedom."
Conceived to provide wrap-around support to those who have been accepted in a variety of career advancement programs, the Single Mothers Support Fund takes away the financial burden of day-to-day expenses, including childcare and living costs, while giving participants the freedom to focus on their training or studies. For many mothers going back to school can be a daunting prospect; for mothers who are solely responsible for childcare and household income it is almost impossible without help. Cause We Care Foundation works closely with frontline organizations to identify where and how they can be most impactful in their mission to support single mothers in achieving long term security and well-being.
"We are so grateful to everyone who came out to support our event. It is our most successful Mother's Day Lunch fundraiser to date and we look forward to helping more single mothers towards their career goals and financial independence," says Cause We Care's Executive Director, Shannon Newman-Bennett. "To date we are proud to report that we have helped more than seventy women achieve their job training goals in areas of healthcare, social work, teaching, hairdressing and aviation. These women, like Moyosola, continue to inspire us with their strength and determination."
Cause We Care supports a variety of initiatives including housing, childcare and school break programs, education and job training programs through the Single Mothers Support Fund, as well as essential supply drives and emergency funding. Funds also support the ongoing needs of the families living at YWCA Cause We Care House in Vancouver. Learn more and donate online at www.causewecare.org
Supporting images for media can be accessed here. 
About Cause We Care Foundation
Cause We Care is a Vancouver-based registered public foundation, founded to assist marginalized single mothers and their children in need in our community. Since 2007, Cause We Care has provided support to those faced with poverty and the everyday challenges it brings through a variety of outreach and funding initiatives. www.causewecare.org 
 
Media Contact
Annabel Hawksworth
Hawksworth Communications
604.609.6678 | annabel@hawksworth.ca  
 
Caroline Woodcock
Cause We Care, General Manager
604.222.1997 | info@causewecare.org