Savour Fall on Vancouver Island with Magnolia Hotel & Spa's Flavour Trails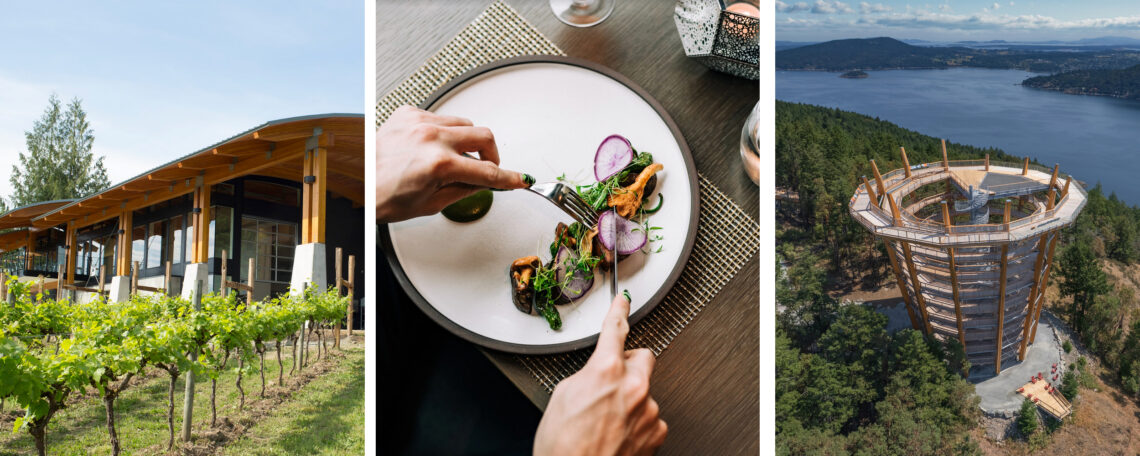 From the rolling meadows and iconic vineyards of the Cowichan Valley to the rocky coves and lush farmland of Saanich Peninsula, both a short 45 minute drive from cosmopolitan Victoria, the Magnolia Hotel & Spa's Flavour Trails offer guests a helpful guide to explore the beauty and bounty of southern Vancouver Island in the fall.
The hotel's collection of Curated Trails maps offer a useful tool for guests to explore at their own pace, visiting a collection of thoughtfully-chosen, artisan producers for a true taste of the Island. The majority of maps focus themed routes around Victoria's vibrant neighborhoods but for those who are eager to explore a little further, two Flavour Trail maps guide guests through the rural communities of Cowichan Valley and the Saanich Peninsula, abundant with life and produce through the fall months.
Just a 30 minute drive to the west of Victoria, farms, orchards and vineyards run the length of the Saanich Peninsula. Stops include the 500-acre Michell's Farm Market where they grow everything from apples to zucchini; Sea Cider Farm & Ciderhouse, which is home to a portfolio of 12 hand-pressed ciders, as well as a delicious menu from their Cider House Kitchen; Roost Winery, Bistro and Farm Bakery with farm-fresh menus offered all day; Rathjen Cellars, home to some of the oldest vineyards on Vancouver Island, producing varietals such as Auxerrois and Ortega with high quality grapes; and Country Bee Honey Farm which not only sells delicious honey and beeswax products but also allows guests to wander through a picture-perfect wildflower meadow, in bloom through the early fall months.
Heading north of Victoria, the Cowichan Flavour Trail pauses at the spectacular Malahat Skywalk for panoramic views of the South Island before heading up the east coast of Vancouver Island to the Cowichan Valley. Known as "Canada's Provence" for its Mediterranean-like climate, the Cowichan Valley has been named an official sub-appellation wine growing region and is home to countless farm shops, breweries, restaurants and bakeries that dot this lush and verdant corner of the coast. Sip on a delicious glass of sparkling Charme de l'Ile at Averill Creek Vineyard or an earthy Pinot Noir at Blue Grouse Estate Winery before sampling small batch brews at Red Arrow Brewing Co. or hand-crafted cider and artisan pizzas at Merridale Cidery & Distillery.
Recently listed as #4 Best City Hotel in Canada in Travel + Leisure's 2022 World's Best Awards, the Magnolia Hotel & Spa's Taste of the Island package includes an overnight stay, $75 per night, dining credit at The Courtney Room, where farm fresh menus burst with local produce, and continental breakfast the following morning. The package is available until September 30, 2022, for a minimum two night stay.
To book, visit www.magnoliahotel.com/specials or call 1.877.624.6654 to find out more.