CanaDream announces new partnership with Uplift, joining leading enterprise travel brands to offer empowering 'Buy Now, Pay Later' solutions to guests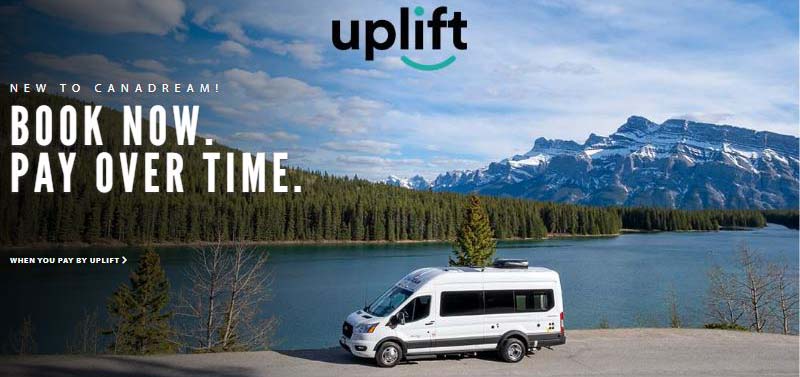 CanaDream, Canada's leading RV vacation provider, continues its commitment to deliver excellence and value to the guest experience, by introducing a new payment option for those planning their next motorhome adventure. Joining esteemed travel brands from across North America, CanaDream has selected Uplift to offer guests a flexible and affordable way to pay over time, with zero down and zero interest.

"Uplift is the perfect partner and shares our ethos of providing a seamless online experience," said Kathryn Munro, VP Sales & Marketing. "This new payment option gives our Guests another layer of choice from the standard deposit or pay in full offerings. Ultimately this may allow Guests the opportunity to book earlier than they might normally and with this take advantage of early booking deals and wider choice of availability. Our new Uplift Book Now Pay Later payment option means Guests can secure their RV vacation, allowing costs to be spread out over their chosen timeframe and monthly costs. We are delighted to have this new option in place in time for the 2023 summer season."

CanaDream offers seven pickup stations across Canada (Vancouver, Calgary, Edmonton, Whitehorse, Toronto, Montreal & Halifax) and a range of six RV types; from compact Truck Campers, two-berth deluxe van conversions, right up to the largest units sleeping 6 and 7 people. With almost 30 years' experience in the RV rental and sales market, CanaDream is consistently recognized for providing the highest quality motorhomes and offering exceptional value for money. Driven by the wanderlust of those who want to embrace the great outdoors and take to the open road, to explore at their own pace, in their own space CanaDream vacations offer the most incredible guest experiences and providing a flexible way to pay is an important natural progression to the company's offerings, particularly with a growing domestic market.

"We are delighted to be expanding into new travel verticals by adding our first RV Vacation provider in Canada," said Denise Heffron, Uplift Managing Director. "Uplift's flexible payment options and seamless booking experience is the perfect pairing for those planning to take on the open road and get traveling again. BNPL (Buy Now Pay Later) continues to grow in popularity and Uplift's solution is proven to benefit both merchants and clients. More options for clients drives both increased bookings and additional spend. We are thrilled to be partnering with Canadream and look forward to the 2023 season."

CanaDream's new payment offering from Uplift launches today, November 7th, 2022 and will allow Guests to take advantage of 2023 Early Booking Offers, which deliver savings of 10% on nightly rental charges along with a choice of benefits and optional extras, from kilometer packs to complimentary bedding and kitchen kits. CanaDream also delivers peace of mind with 24 hour roadside support, recognition as a Safe Travels company, online check-in, self-guided operating demos.
For availability and more information visit www.canadream.com. 
Supporting images for media can be accessed here.