Oliver Osoyoos Wine Country Announces 2023 Signature Events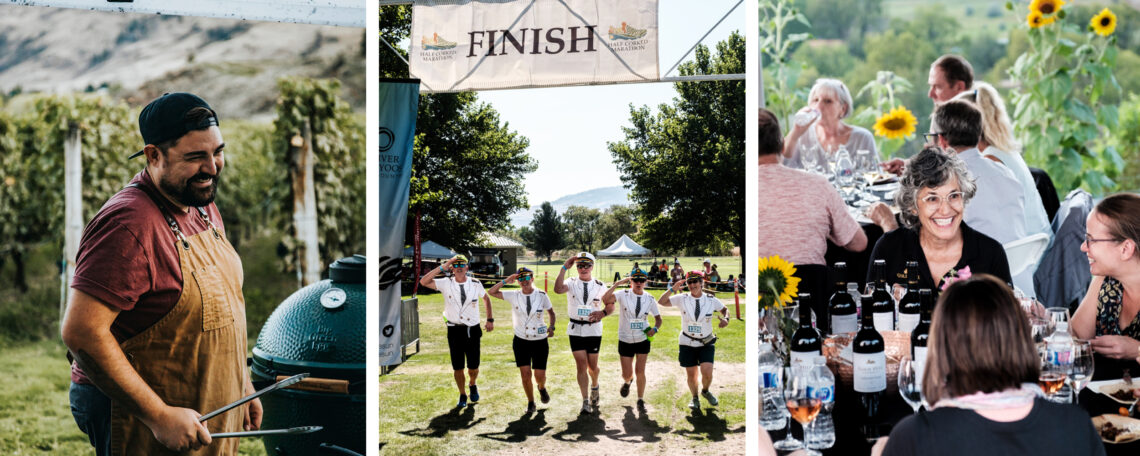 Oliver Osoyoos Winery Association is excited to announce 2023 dates for its two Signature Events: the Half Corked Marathon will take place on May 26-28, 2023 and the Pig Out Festival Weekend on September 15-17, 2023. 
"It'll be an exciting year with our 15th year of Half Corked Marathon and the return of the Pig Out Festival Weekend," says Jennifer Busmann, executive director of the Oliver Osoyoos Winery Association. "We can't wait to uncork together with our guests, sponsors, event partners and communities and welcome visitors with open arms and engaging experiences."
On May 27, 2023, the Half Corked Marathon will celebrate 15 years of bringing runners to Oliver Osoyoos Wine Country for a weekend full of fun, friendship and, of course, wine!  The event will mark the 15th anniversary of the popular fun run, which brings 1500 runners along with their friends and families to the communities of Oliver and Osoyoos. Participants weave along a 24km route, through the vineyards and valleys of the region's iconic wine-growing areas, the Black Sage Road and Golden Mile Bench, along with sections along the beautiful Okanagan River. The theme for the 2023 Half Corked Marathon is BACK TO THE FUTURE and plans are underway to embrace this in every element of the weekend, from the carb-load Primavera Party at Tinhorn Creek Vineyards, to the Party at the Finish Line at Oliver Community Park and Dinner on the Farm, which rounds out the weekend. 
With a new fall date, Pig Out Festival Weekend will showcase the very best of Oliver Osoyoos Wine Country, with beautiful autumnal colours, lush vines, fall flavours and harvest action. Taking place on Saturday September 16th, this one-day wine and food festival brings together talented local and guest chefs, along with wine tastings in an elegant outdoor setting. Pork is on the menu with chefs preparing delicious treats that pair perfectly with wine. The Guest Chef Dinner will be hosted the evening before, pairing the skills of several extraordinary chefs in a multi-course feast, in a pretty vineyard setting. A cornucopia of flavours, dishes are paired with wines from our region. 
Half Corked Marathon Early Bird tickets for runners who have participated in the past will be live from Sunday December 18, 2022 and the General Lottery will open in January, with ticket sales available later that month. Tickets to Pig Out and the Guest Chef Dinner will be available in the new year. Stay tuned to @uncorkthesun on Instagram and Facebook for more information. 
For brands looking for sponsorship opportunities and the chance to engage with our 2500+ event attendees, please contact Jennifer Busmann, admin@oliverosoyoos.com. 
Supporting images can be accessed here.