Discover Vancouver Island's Coastal Communities of Sooke and Metchosin with the Magnolia Hotel & Spa's newest Flavour Trail Map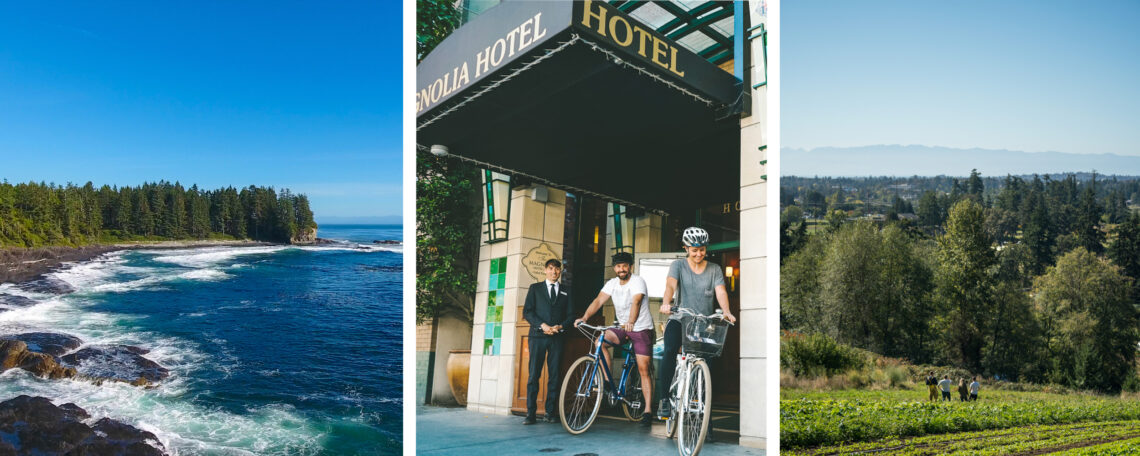 From rocky coves and secret beaches to artisan culinary recommendations, the Magnolia Hotel & Spa is proud to announce the Sooke Flavour Trail map, now available for hotel guests.
As a way to encourage guests to Victoria to venture further and discover the natural beauty and independent restaurants, farms, breweries and cafes of Southern Vancouver Island, the new map hones in on the communities of Sooke, Metchosin and Langford, just a 20-40-minute drive west from the hotel's downtown location.
With a new Langford location, Sheringham Distillery is the first stop, home to the World's Best Contemporary Gin, an accolade awarded to their Seaside Gin, infused with local, sustainably harvested winged kelp. As guests leave the city bounds, the scenery shifts to rolling farmland as they enter the rural community of Metchosin. Recommended stops include the idyllic Bilston Creek Farm, where visitors can wander through lavender fields or picnic under heritage apple trees before stocking up on small batch lotions, essential oils and bath salts, and My-Chosen Cafe, known for home-style cooking and picturesque farmland surrounds (don't forget to say hello to the goats!). Continuing on towards Sooke, the surrounds become rockier and there are plenty of options for beachcombing in hidden coves, including those in the Aylard Farm area in East Sooke, also home to Sea Chest Ice Cream at Becher Bay Marina & Campground. This seaside nook offers handmade, organic ice cream sandwiches using in-season ingredients from owner Mouette Loustalot's garden.
Onward for a refreshing dip at the popular Sooke Potholes Provincial Park before heading into town with a stop at Bad Dog Brewing Co., a craft microbrewery with twelve tasty beers on tap. Venture further up the coastal road to Shirley Delicious, a little cafe nestled in the woods and the perfect pit stop before a scenic hike to Shirley Lighthouse for panoramic coastal views or nearby French Beach Provincial Park. Before heading back to the hotel, stop for dinner at Stoked Wood Fired Pizza & Market and catch the sunset over the Juan de Fuca Sound from one of the nearby beaches or stop at Wild Mountain in Sooke, advocates of the Slow Food Movement.
The Magnolia Hotel & Spa's collection of Curated Trails maps offer a useful tool for guests to explore at their own pace, visiting a collection of thoughtfully-chosen, locally-owned producers for a true taste of Vancouver Island. The majority of maps focus themed routes around Victoria's vibrant neighborhoods but for those who are eager to explore a little further, the three Flavour Trail maps guide guests through the rural communities of Cowichan Valley, the Saanich Peninsula and now Sooke, abundant with life and produce throughout the year.
Recently listed as one of the best hotels in the world by Travel + Leisure readers in the 2023 T+L 500 and celebrating its 25th anniversary this year, the Magnolia Hotel & Spa's Celebrate Summer package includes an overnight stay, $75 per night for dining at The Courtney Room, continental breakfast, evening turndown and a 750ml bottle of the hotel's signature Celebrate Fitz Brut, a collaboration with Fitzpatrick Estate Winery. The package is available for stays from May 1 to October 15, 2023, rates starting from $399 per night for a minimum two-night stay.
To book, visit www.magnoliahotel.com/specials or call 1.877.624.6654 to find out more.
Supporting images for media can be accessed here.