Plan Your Winter Getaway Before Pass Prices Increase September 4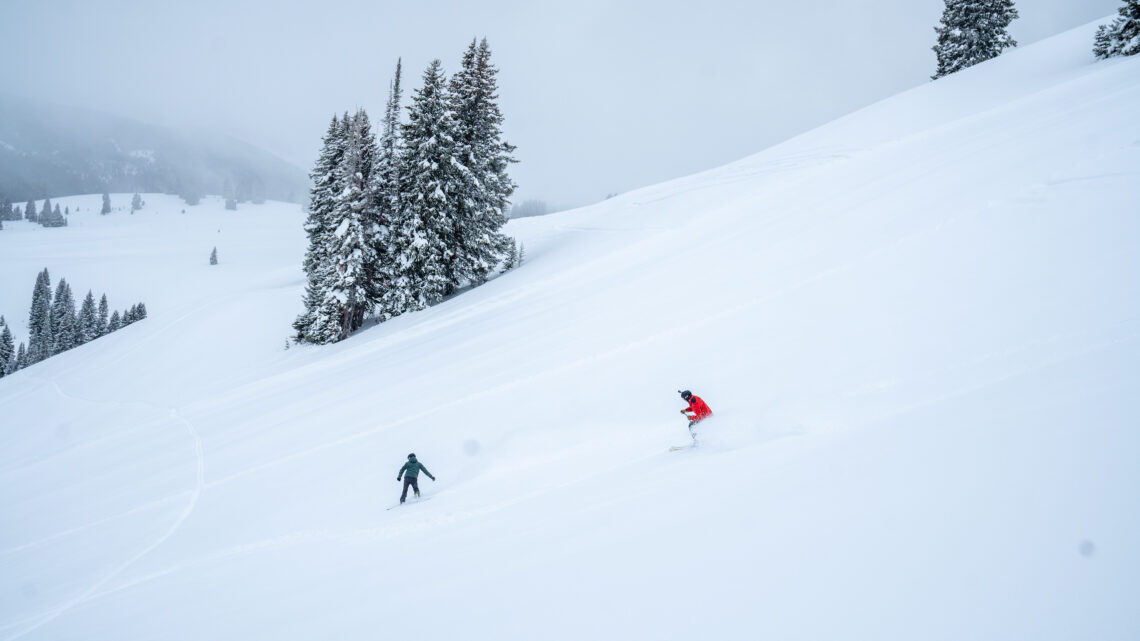 WHISTLER, British Columbia, August 15, 2023 – Travellers who plan their winter trips in advance are in for great savings. Skiers and riders have until September 4 to lock in access to Whistler Blackcomb and other world-class resorts for the 2023/24 season before prices increase. Those who buy their pass now will also unlock early access to the Winter Getaway Sale and receive exclusive discounts on lodging.
The Epic Pass offers the best deal in skiing and riding, with unmatched value and access to the world's best destination resorts and close-to-home ski areas, including Whistler Blackcomb, Vail, Park City Mountain, plus additional access to Kicking Horse, Fernie and more.
Pass Holder Benefits
With Epic Mountain Rewards, Epic Pass Holders save 20 percent on lodging, ski and snowboard group lessons, ski and snowboard rentals, and on-mountain food and beverage. The Whistler Blackcomb Unlimited Pass and EDGE Cards also include great perks such as savings on lodging, shopping, and group lessons and camps.
Skiers and riders who purchase an Epic Pass, EDGE Card, or Whistler Blackcomb Unlimited Season Pass now will also unlock early access to the Winter Getaway Sale. The Winter Getaway Sale will offer discounted lodging rates for stays during the winter season. Running Aug. 24-Sept. 5 for Pass Holders and Aug. 29-Sept. 5 for public access, Pass Holders will have access five days earlier to lock in their preferred winter lodging at a great rate across Vail Resorts' portfolio of hotels, condos and premier vacation residences. Lodging options in Whistler include Evolution, First Tracks, Legends. For additional premier lodging options, visit Whistler Blackcomb's lodging page.
Pass Holders can book the Winter Getaway Sale by signing into their account, selecting the sale and searching for their lodging of choice across eligible mountain resorts.[1]
Pass Holders have access to easy monthly installments with Epic FlexPay, powered by Uplift, which enables payment via easy monthly installments with zero down payment and zero interest.[2]
All passes are non-refundable except through Epic Coverage, which provides refunds for certain resort closures and personal events such as job loss, injury or illness. Epic Coverage is provided at no additional cost and Pass Holders should review the Epic Coverage Terms and Conditions.
Pass and EDGE Card Prices Increase After September 4
Epic Pass is currently priced at $929 USD, offering unlimited, unrestricted access to Whistler Blackcomb, Vail, Park City Mountain and more, plus access to Kicking Horse Mountain Resort, Fernie Alpine Resort and more. Whistler Blackcomb Day Pass is priced from $113 CAD per day. Residents of Canada and Washington State can ski from just $82 CAD per day with an EDGE Card. EDGE Cards are customizable with 2, 5 or 10 days of access from $236 CAD, $473 CAD and $814 CAD, respectively. Compare all pass offerings on the Whistler Blackcomb website.
Skiers and riders interested in securing their Pass or EDGE Card now can reference the pricing chart below. Pass prices will increase after September 4.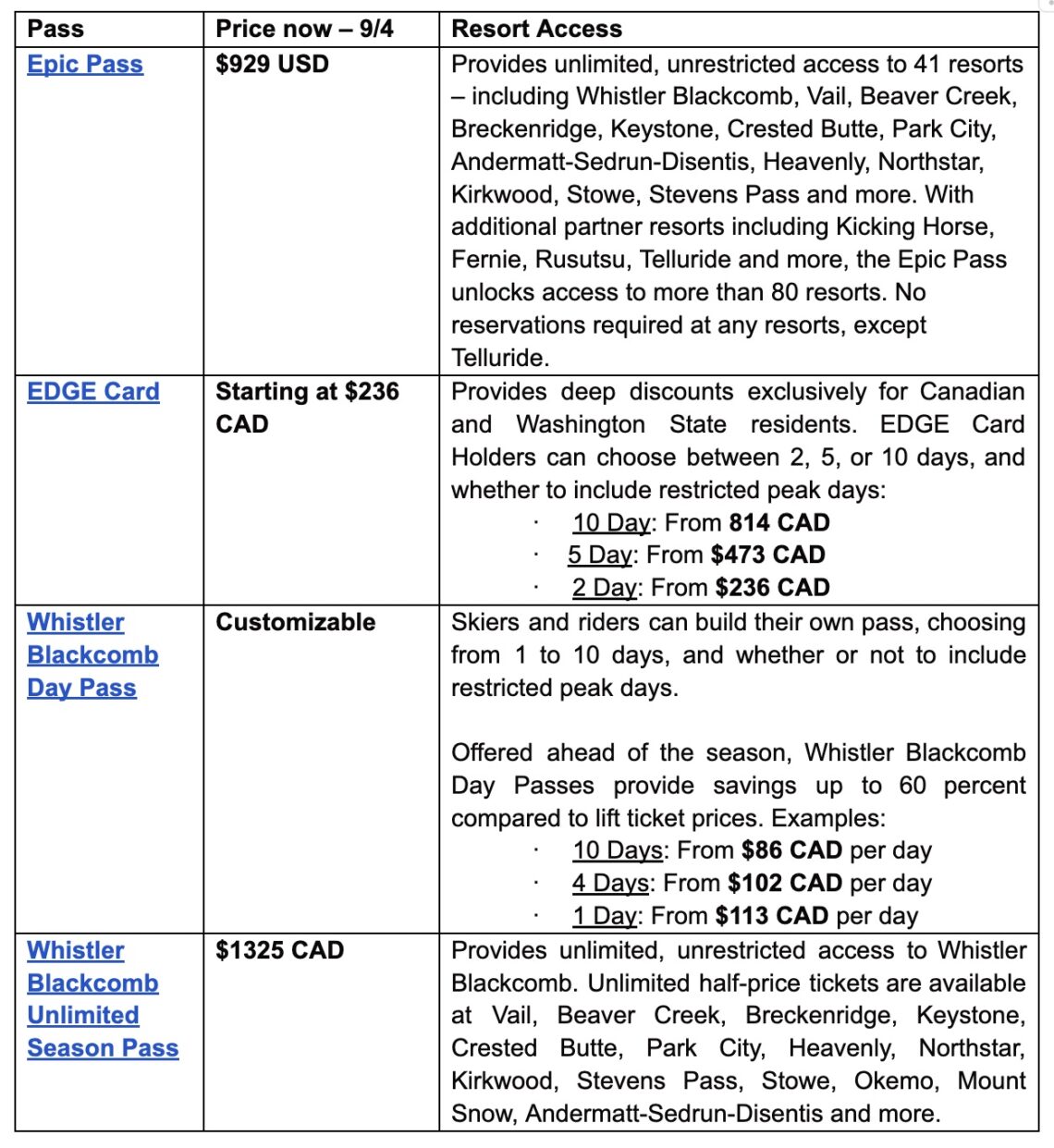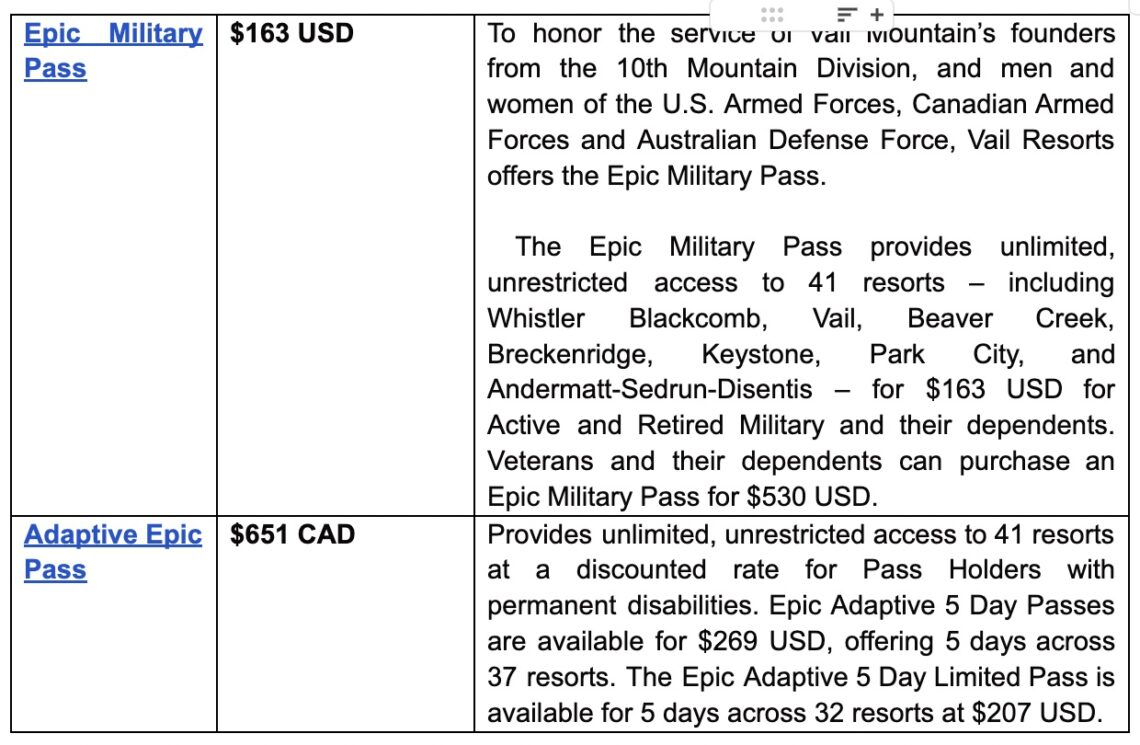 2023/24 Season Access Details
Lift tickets will be limited every day, across every resort including Whistler Blackcomb, during the 2023/24 season to preserve the guest experience for Pass Holders. Passes, including day passes, EDGE Cards and Pass Holder benefit tickets will not be limited. There will also be no impact to guests who enroll in ski and snowboard lessons that include lift access, or to employee and dependent passes.
No resorts on the Epic Pass will require reservations, except for Telluride which will be available to book on the Epic Pass website.
About Vail Resorts, Inc. (NYSE: MTN)
Vail Resorts is a network of the best destination and close-to-home ski resorts in the world including Vail Mountain, Breckenridge, Park City Mountain, Whistler Blackcomb, Stowe, and 32 additional resorts across North America; Andermatt-Sedrun in Switzerland; and Perisher, Hotham, and Falls Creek in Australia. We are passionate about providing an Experience of a Lifetime to our team members and guests, and our EpicPromise is to reach a zero net operating footprint by 2030, support our employees and communities, and broaden engagement in our sport. Our company owns and/or manages a collection of elegant hotels under the RockResorts brand, a portfolio of vacation rentals, condominiums and branded hotels located in close proximity to our mountain destinations, as well as the Grand Teton Lodge Company in Jackson Hole, Wyo. Vail Resorts Retail operates more than 250 retail and rental locations across North America. Learn more about our company at www.VailResorts.com, or discover our resorts and pass options at www.EpicPass.com.
Media Contact
Annabel Hawksworth, annabel@hawksworth.ca / 604.609.6678
Laura Bonfiglio, laura.c.bonfiglio@vailresorts.com
[1] The Winter Getaway Sale spans arrival dates throughout the winter season. Restrictions and exclusions apply may apply. See full terms and conditions at snow.com/hospitality/cancellation-policy.
[2] *Uplift T&Cs: Canada Only–All loans are $0 down and 0% APR but the length of the loan offered may vary. Approved applicants will be offered no more than three term options. A minimum total purchase of $49 required to apply for a loan. Not everyone is eligible. Applicants are subject to approval by Uplift Canada. Privacy Policy.Terms of Use.
Epic FlexPay T&Cs: Restrictions and exclusions apply. See Terms and Conditions for details.