Vancouver Regional Finalists Announced in Hawksworth Young Chef Scholarship Competition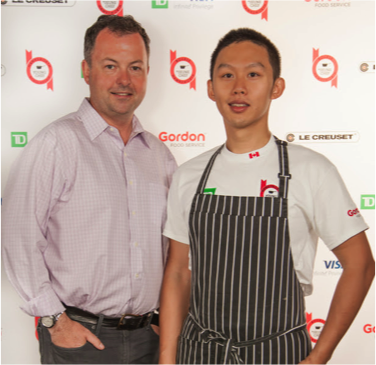 A panel of Canada's top chefs has spoken and announced the culinary finalists from Vancouver's regional heats of the national Hawksworth Young Chef Scholarship presented by TD® Aeroplan® Visa Infinite Privilege. The competition was extremely fierce during the Vancouver heat yesterday afternoon, with only two young chefs able to progress through to the final national round, which will take place on September 12 in Vancouver. Regional heats are held in Calgary, Toronto and Montreal.
Each competitor was given identical ingredients, provided by Gordon Food Service Canada, and allowed two hours in the kitchen to wow the taste buds of the judges. Those who came out on top were from a diverse group of talented young chefs from a number of the city's top kitchens. The Vancouver heat finalists are: Kevin Tang (from Shangri-la Hotel) and Keith Hodgson (from Rosewood Hotel Georgia) who stood out ahead of the competition to win over the judges.
"As we enter our third year and this contest grows larger, we see more and more top calibre applicants from cities across Canada, making the talent pool increasingly more impressive and the competition tougher," says Chef David Hawksworth, the founder of the Hawksworth Young Chef Scholarship.
Kevin Tang was first overall in the Vancouver heat, impressing the panel of chefs, which included J-C Poirer, Lee Cooper, Lucais Syme, Kristian Eligh, David Hawksworth and food critic Mijune Pak. The well composed dish of pan seared lamb loin, spiced sabayon and roasted cauliflower puree won over the esteemed panel of judges. Chef Kristian Eligh noted, "Kevin was technically flawless in the kitchen and preformed extremely well under pressure." As a reward for Kevin Tang's hard work in the kitchen, Le Creuset provided him with a Stainless Steel Chef's Pan (Saucier).
Taking place at Vancouver Community College in September, the final round of this national competition will see the finalists use mystery ingredients from a black box, revealed only moments before the competition clock begins to tick. The winner, chosen by a prominent panel of Canadian chefs and food critics, will be awarded a $10,000 scholarship along with an international stage.
Website: hawksworthscholarship.com
Facebook: /HawkScholarship 
Twitter: @HawkScholarship