Hawksworth Young Chef Scholarship Announces Vancouver Regional Finalists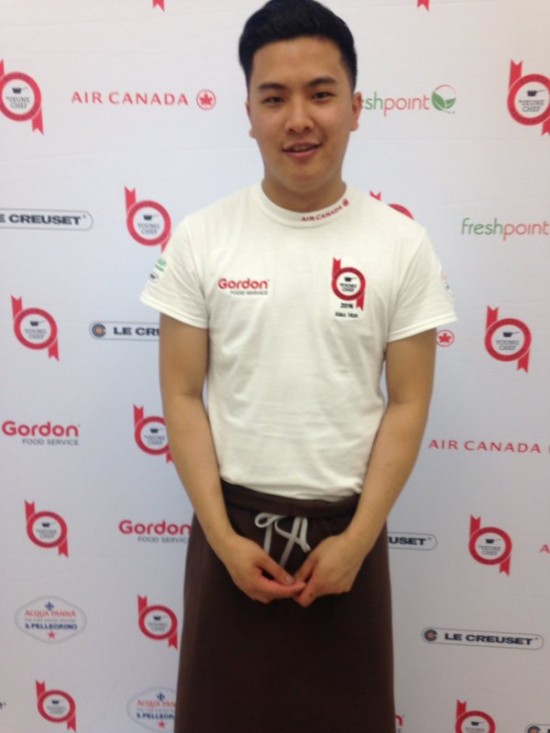 Canada's top chefs have today selected two of Vancouver's young culinary talents to participate in the national finals of the Hawksworth Young Chef Scholarship. The competition was extremely fierce in the kitchen at VCC Downtown Campus, with Alex Hon from West Restaurant and Corey Hess from Royal Dinette impressing the panel of judges enough to move on to the national final on September 17. Regional heats are also taking place in Calgary, Toronto and Montreal to find eight finalists that will compete to win a $10,000 cash prize and and an international stage as the winner of the fourth annual Hawksworth Young Chef Scholarship.
Each of today's 10 competitors were given identical ingredients, provided by Gordon Food Services Canada, and allowed two hours in the kitchen to inspire the taste buds of the judges. Some of this year's ingredients included whole rabbit, double-smoked bacon, fresh herbs and a wide selection of fresh produce and dairy products. Four identical main course plates had to be completed within the two-hour time period or marks were deducted from the final score. Main course plates had to represent an a la carte sized portion with the inclusion of 120 grams of protein, one starch garnish, two vegetable garnishes and one sauce.
"As we enter our fourth year, the intense level of competition we see in the kitchen is remarkable," says Chef David Hawksworth, founder of the Hawksworth Young Chef Scholarship. "Even in the selection process, there is so much passion coming through in the applications. The techniques used in the execution of the dishes in Vancouver were thoroughly impressive but the judges recognized an elevated level of refinement from our two finalists."
Alex Hon was first overall in the Vancouver heat, impressing a panel of chefs that included JC Poirier, Lee Cooper, Lucais Syme, Andrea Carlson, Kristian Eligh and David Hawksworth. "Hon was one of the most composed chefs in the kitchen today from start to finish," says kitchen judge Chef Kristian Eligh. "While preparing his winning dish, a trio of rabbit, he used beautiful techniques and the dish was very well executed." His abilities translated into an impressive first place showing and as a reward for his hard work in the kitchen, Le Creuset provided him with an olive wood knife.
Taking place on September 17 at Vancouver Community College, the final round of this national competition will see the finalists use mystery ingredients from a black box, which will be revealed only moments before the competition clock begins to countdown. The winner, chosen by a prominent panel of Canadian chefs and food critics, will be awarded a $10,000 scholarship, international stage as well as prizing from sponsors Air Canada, San Pellegrino, Gordon Food Services and Le Creuset.