Sommelier & Supplier led dinners and celebratory Chef's Table dinners feature at Hawksworth Restaurant and Nightingale during Dine Out Vancouver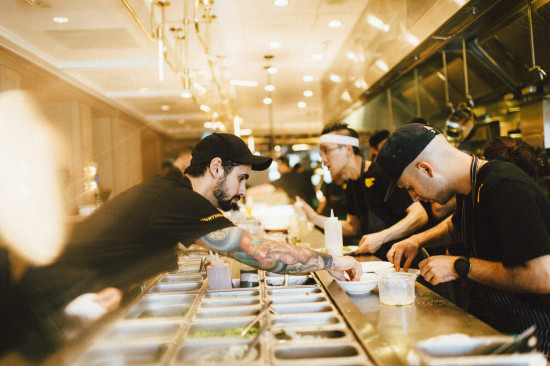 January 17, 2017 (Vancouver, BC) – Hawksworth Restaurant Group is proud to be a part of Vancouver's most highly anticipated food festival, Dine Out Vancouver, when it returns to the city from January 20 until February 5 2017. Chef David Hawksworth's latest venture, Nightingale, will celebrate its inaugural year of Dine Out Vancouver with an intimate Chef's Table Experience and Hawksworth Restaurant will be offering new Sommelier & Supplier led dinners for the festival.
The Nightingale Chef's Table Experience invites you to gather a group of friends or family to experience the sought after Chef's Table. Every night of the festival Nightingale's Head Chef Phil Scarfone will create an exceptional culinary experience with a superb array of seasonally inspired plates to share. Using only the freshest ingredients, prepared with unique and artistic techniques that continue to set Nightingale apart as one of Vancouver's hottest new restaurants, each Chef's Table Experience will offer a truly remarkable evening of delicious food. Bookings will be taken in groups of 14 – 18 at a cost of $45 per person, plus tax, gratuity and fees.
The Hawksworth Restaurant Sommelier and Supplier Dinner will also return for its fifth year of Dine Out Vancouver with a series of five Sommelier & Supplier led dinners, held in the elegant York Room. On January 23, 26, 28, 30 and February 2, guests are invited to indulge in an exquisite multi-course meal with optional wine pairings, prepared by the finest chefs of the city, as they converse with old and new friends at the communal-table suppers. Each of these 'Sommelier & Supplier' dinners will pay well-deserved homage to the local farmers, foragers and winemakers that have supplied the extraordinary Hawksworth menu for the past five years and made it the best fine dining restaurant in Vancouver. Tickets for the event start at $75 for food-only or $110 with wine-pairings, plus tax, gratuity & fees.
Limited tickets for both restaurant's events are available through the Dine Out Vancouver's website. For more information about Dine Out Vancouver  visit http://www.dineoutvancouver.com/.