Guest Chef Dinner: Hops, Grapes & Grains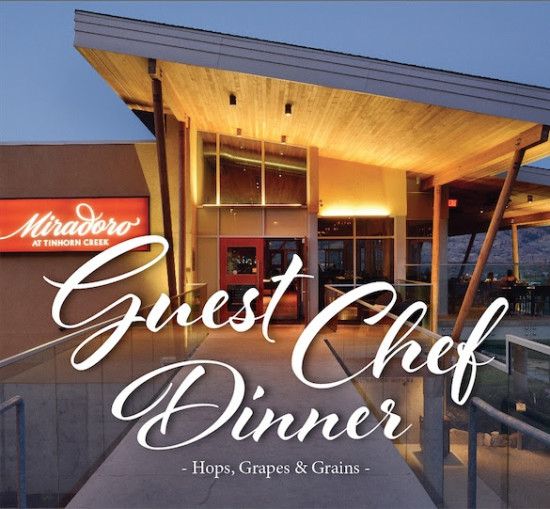 Oliver, BC (

April 21, 2017

)
– Miradoro at
Tinhorn Cree
k
, awarded Best Winery Restaurant in the recent 2017
Golden Plates Awards
, is gearing up for an exciting collaboration between two of British Columbia's most celebrated culinary experts. On
May 5
, Chef Jefferson Alvarez from Vancouver's
Cacao
Restaurant will join Chef Jeff Van Geest in the Miradoro kitchen to co-create a unique Spanish style, local ingredient-led multi-course gourmet dinner, paired with Tinhorn Creek wines,
Cannery Brewing
beers and
Dubh Glas Distillery
spirits.
Executive Chef Jeff Van Geest takes great pride in keeping his ingredients close to home. Between fresh bounty sourced from local farms and herbs and vegetables plucked from Miradoro's very own backyard, Van Geest's wine country cuisine is just as authentic as the spectacular South Okanagan region that inspires it. Guest Chef Jefferson Alvarez is also no stranger to culinary excellence. His extensive experience in the Executive Chef role and hosting pop-ups all over the city paired with a close connection to his Venezuelan roots have helped make his latest venture, Cacao, such a sensation. With a commitment to fresh ingredients and an irrepressible Latin American flare, Cacao is an entirely new blend of modern and traditional cuisine.
"I'm very excited to work with Chef Jefferson", says Chef Van Geest. "We've designed a menu that's full of surprises and true to both of our passions, history and experience in the kitchen. We've built each course to showcase the wonderful local ingredients we have access to here in the South Okanagan with a flavourful Spanish spin. Sharing ideas and inspiration has allowed us to think outside the box and create something special for our guests."
Guest Chef Dinner – Hops, Grapes & Grains
, will be held on
Friday May 5 at 6.30pm
and will bring an exclusive curated menu to Miradoro for one night only. The multi-course menu features five signature Spanish-style dishes, including pappas arugadas with seaweed salsa verde followed by rib steak with a unique Latin American flare. Each course is paired with premier wines from Tinhorn Creek, craft spirits from Dubh Glas Distillery and Cannery Brewing beers for a delightfully engaging culinary experience. Seating is limited and reservations are required. The dinner costs $125 per person, fully inclusive of taxes and service. Call
250.498.3742
or email
info@miradoro.ca
to book.