#TofinoEats: 1909 Kitchen Winter Guest Chef Series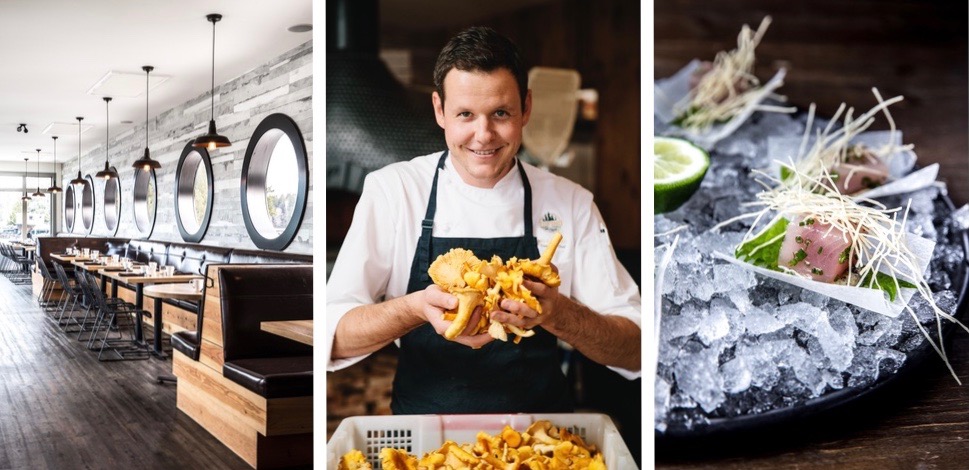 After a successful guest chef series in the spring, 1909 Kitchen at Tofino Resort + Marina is excited to announce new chef collaborations for the winter season. #TofinoEats: 1909 Kitchen Winter Guest Chef Series offers a talented lineup of chefs arriving to Tofino from November on: Chef Jeff Van Geest from Miradoro Restaurant at Tinhorn Creek, Oliver; Chef Angus An from Maenam, Vancouver; Chef Hilary Nguy from Temaki Sushi, Vancouver; and more to be announced shortly.
"To have so many talented chefs with different backgrounds coming to Tofino and getting to learn and be inspired by one another, while preparing something absolutely unique for our guests, is a win-win for everyone," says Chef Paul Moran.
Named after Tofino's first post office (which opened in 1909), 1909 Kitchen specializes in all things local. Executive Chef Paul Moran is an experienced forager and works with an ingredient-driven menu sourced and foraged from Tofino's oceans, shoreline and forests. Despite being a new addition to the ever expanding food scene in Tofino, 1909 Kitchen has already established itself as a stunning favourite among locals and tourists alike and is listed as a contender for the enRoute 2018 Best New Restaurant Awards.
Beginning the series on November 2 is Chef Jeff Van Geest from Miradoro Restaurant at Tinhorn Creek Vineyards in Oliver, BC. With a focus on modern, local and sustainable cuisine served in a picturesque setting – Miradoro and 1909 Kitchen share a similar theme. The Miradoro x 1909 Kitchen dinner features an à la carte menu, meaning diners can taste the best of Tofino and the Okanagan for as little as one plate and a glass of wine, or dive in for the whole meal.
On December 1, Chef Angus An from popular Thai restaurant Maenam in Vancouver will join Chef Paul Moran in the kitchen. "I've known Paul for many years and have always been a fan of his cooking. I was thrilled when he assumed the role of Executive Chef at Tofino Resort + Marina as I knew he would bring his talents to one of the most beautiful places in the world. I am extremely proud and excited to be a part of this collaboration, and to bring Thai cuisine to the community to share," says Chef Angus An.
Next up on February 9, Ocean Wise Chef Hilary Nguy from Temaki Sushi in Vancouver shares the kitchen with Chef Paul Moran for a second time. Known for his Japanese food hand-made with passion and creativity, the Temaki x 1909 Kitchen collaboration will bring a fresh take on the high-quality seafood options Tofino has to offer.
Tofino Resort + Marina has enjoyed hosting recent guest chef dinners by Chefs Brad Holmes and Carmen Ingham from OLO Restaurant, Victoria; Chef Felix Zhou from Heritage Asian Eatery, Vancouver; and Chef David Hawksworth of the acclaimed Hawksworth Restaurant Group, Vancouver. More exciting chef collaborations are currently in the works and will be announced in the coming months.
For reservations please call 250.726.6122. For more information, visit tofinoresortandmarina.com.