Chef Paul Moran of Tofino's 1909 Kitchen takes home silver at Canada's Great Kitchen Party, Regional Qualifier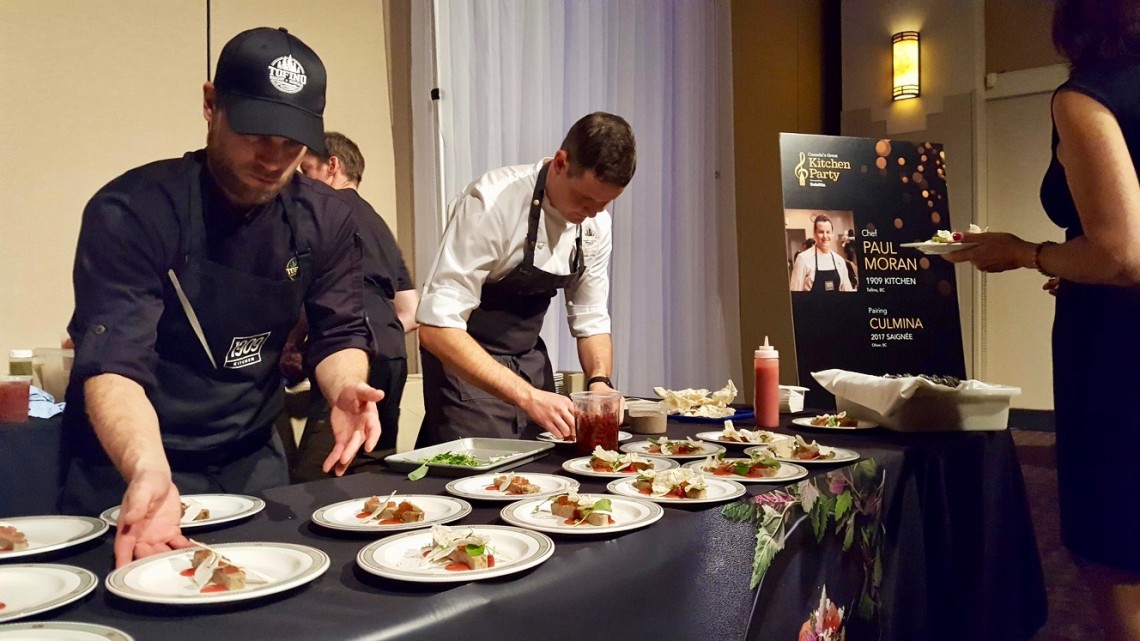 On Thursday, October 25 Chef Paul Moran of 1909 Kitchen at Tofino Resort and Marina joined eight other talented chefs from BC, to compete in Canada's Great Kitchen Party, Regional Qualifier in Victoria, held at the Victoria Conference Centre. Chef Moran placed second with his dish: smoked veal liver and pork jowl country pâté, wild preserved Cornelian cherries, breakfast cereal crisps, foraged Tofino pine mushrooms and watercress, which was presented with Culmina Family Estate Winery's 2017 Saignée wine.
Chef Paul Moran, a fifth-generation forager, leads the kitchen brigade at 1909 Kitchen to create ingredient-driven, sustainably focused menus, sourced from Tofino's oceans, shoreline and forests. Staying true to his ethos, he describes his winning dish as "a showcase of pristine ingredients that are locally foraged with care and passion creatively combined with others that are delicious by-products of the food industry," he adds "the bold, fresh flavours of this dish pair perfectly with Culmina's Saignée wine which also exemplifies a sense of place, in parallel with our own food philosophy at 1909 Kitchen."
Judging the 2018 competition were: James Chatto, Sid Cross, Andrew Morrison, Peter Zambri and Chef Alex Chen (2017 Regional Gold Medalist and Canadian Culinary
Champion). Each dish was judged out of 100 points, based on visual presentation, texture technical achievement, taste, wine compatibility and wow factor.
Canada's Great Kitchen Party events are held annually in the fall. Staged in eleven cities, the events are a celebration of the pillars of Canadian culture – sport, music and food with a purpose of providing young Canadians the opportunity to be extraordinary in the same pillars. In each of the eleven cities, eight to ten chefs compete with a dish of their choice to be paired with a Canadian wine, beer or spirit. Canada's Great Kitchen Party and the resulting Canadian Culinary Championships support B2ten, MusiCounts and Community Food Centres Canada.
Chef Paul Moran is proud to have placed second and to be part of a culinary competition that benefits such worthy endeavours. He congratulates first place winner Chef Takashi Ito of AURA waterfront restaurant + patio in Victoria while acknowledging all competing chefs, judges and organizers for their participation in making the event possible. A strong believer in the power of partnerships, 1909 Kitchen recently announced #TofinoEats: 1909 Kitchen Winter Guest Chef Series, offering a talented lineup of chefs arriving to Tofino to collaborate with Chef Paul Moran and his kitchen team.