Hawksworth Young Chef Scholarship Foundation Announces 2019 Winner
Camilo Lapointe-Nascimento from Montreal's Le Mousso takes top prize in Canada's definitive culinary competition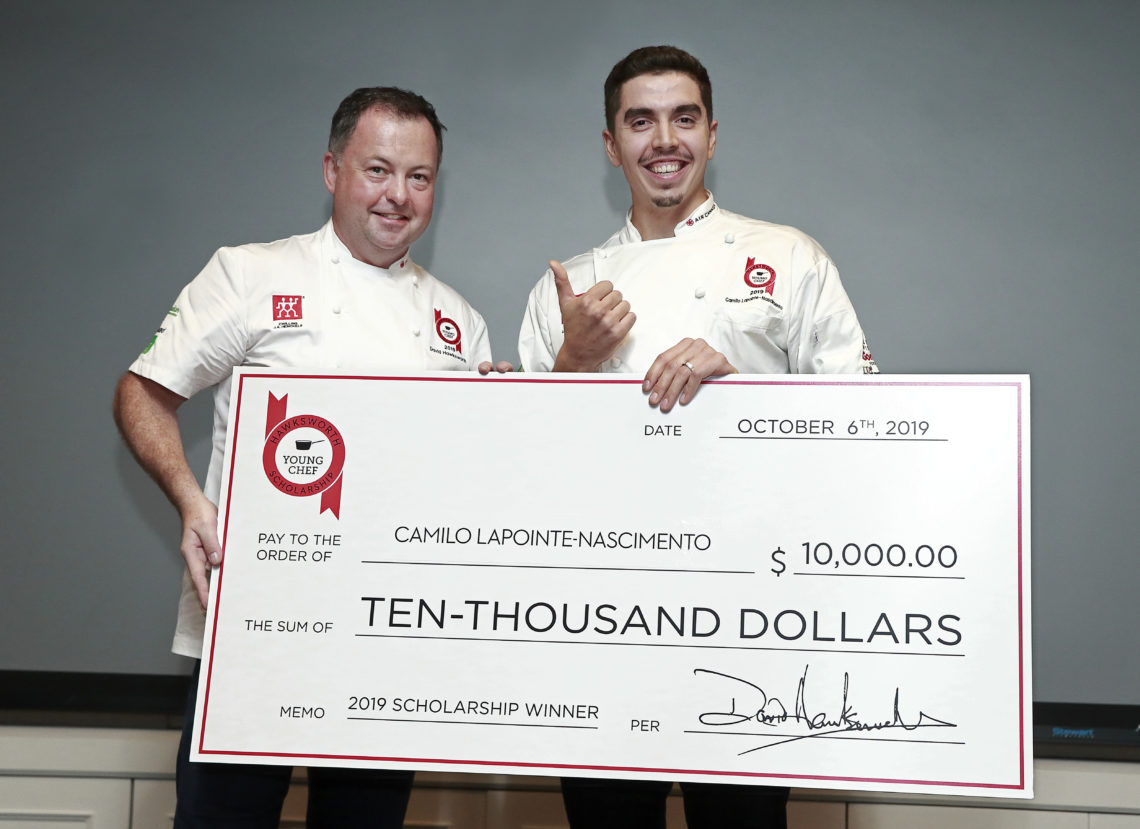 The Hawksworth Young Chef Scholarship Foundation is thrilled to announce Camilo Lapointe-Nascimento (23) of Montreal's Le Mousso as this year's winner following the exciting National Finals held this past Sunday in Vancouver. The first winner to come from the East Coast, Camilo earned the title "2019 Top Young Chef of Canada"; a $10,000 grand prize; an ultimate cookware set from Zwilling J.A. Henckels; prizes from Nespresso, KitchenAid and Fraser Valley Specialty Poultry; as well as an unparalleled opportunity to stage at a globally renowned restaurant.
Now in its seventh year, the Hawksworth Young Chef Scholarship National Finals included a three-day participant program for finalists: an educational farm tour courtesy of Fraser Valley Specialty Poultry; an evening wine tasting with Select Wines; an Italian master class led by Michelin-starred Chef Agostino Iacobucci courtesy of the Italian Trade Agency; and a chocolate workshop with fourth-generation pâtissier Thomas Haas presented by Cacao Barry. These unique learning experiences were offered as part of the scholarship's ongoing goal to build a community where resources, ideas, information and advancements in the culinary field can be shared.
"We are incredibly excited to see the program continue to expand and remain committed to developing and inspiring young chefs across Canada," says Scholarship founder, Chef David Hawksworth. "I'm so grateful to our panel of judges who gave up their time, and to all of our valued sponsors who make this program possible and of course to our competitors; we were blown away by their talent and determination, they all deserve to be applauded!"
In total, $20,000 of prize money was given away by the Hawksworth Young Chef Scholarship Foundation; in addition to the $10,000 awarded to the first place winner Chef Camilo Lapointe-Nascimento, Chef Ben Miller (24) of West Restaurant and Dan Angus (25) of Langdon Hall Country House Hotel & Spa placed second and third, respectively, taking home $5,000 and $3,000 prizes. Miller also took home the Hawksworth Young Professional Award for his professionalism in correspondence and meeting deadlines, taking home a $2,000 prized provided by Gordon Food Service and Lapointe-Nascimento took home the Best Dessert Award presented by Cacao Barry – an all expense paid trip to the prestigious chocolate academy in Montreal to attend a masterclass of his choosing.
Following regional heats that took place across Canada in Calgary, Vancouver, Montreal, and Toronto this spring, 40 competitors, narrowed down from hundreds of applicants, led to just eight finalists making it through to compete at Vancouver's Dirty Apron Cooking School and Delicatessen. Using common pantry ingredients provided by Gordon Food Service and Club House for Chefs, as well as a selection of mandatory 'Black Box' ingredients which were revealed just minutes prior to the competition's start time, competitors have just three hours to create a main dish and dessert for the judges try. With two kitchen judges marking for cleanliness, technique and professionalism in the kitchen, the final tasting and presentation of dishes is conducted anonymously, the creator of each dish is not revealed until the final tally is in.
The winner's announcement took place at an evening reception, with host Fred Lee revealing Lapointe-Nascimento's winning menu; seabream with pumpkin purée, pavé de pomme de terre, pickle daikon and for dessert; lemon, passionfruit and pear tarte with chocolate ganache as the winning combination. The awards ceremony was followed by a night of celebration at Hawksworth Restaurant over delicious canapés and interactive chef action stations.
Scholarship founder, Chef David Hawksworth thanks this year's National Finals' judging panel: Chef Renée Bellefeuille, Art Gallery of Ontario; Chef Lee Cooper, L'Abattoir, Coquille Fine Seafood & No.1 Gaoler's Mews; Chef Kristian Eligh, Toptable Group; Chef Nicole Gomes, Nicole Gourmet & Cluck 'n' Cleaver; Chef Agostino Iacobucci, Ristorante Iacobucci; Chef Renée Lavallée, The Canteen; Chef Adam Pegg, La Quercia; Chef Chris Stewart, Aritzia; Chef Rhonda Viani, Locals Restaurant; and host Fred Lee for joining him in his vision to inspire and challenge these young Canadian chefs to be at their best. Furthermore, the Scholarship would not be possible without the valued sponsorship from Air Canada, Cacao Barry, Canadian Linen, Club House for Chefs, Fraser Valley Specialty Poultry, Garland Canada, Gordon Food Service, Italian Trade Agency, Push Operations, San Pellegrino, Select Wines, and Zwilling J.A. Henckels to which Chef Hawksworth extends his most sincere thanks.
Applications for next year's competition open January 2020. To apply, and for information on becoming a sponsor, visit hawksworthscholarship.com.
Note to media: Event photographs available via Dropbox