Hawksworth Restaurant Announces Reopening
Award-winning establishment welcomes guests back with completely new menu concept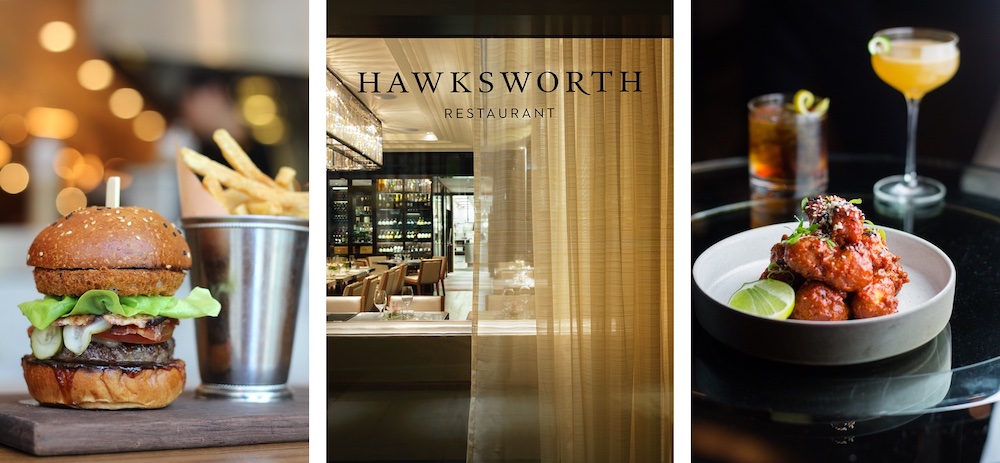 Hawksworth Restaurant reopened its doors this Saturday, June 6 and returned to its roots – bringing classic dishes with familiar flavours to Vancouverites. The new concept features a return to authentic and uncomplicated dishes, brilliantly executed and conceived under the direction of Chef David Hawksworth and his team.
"Looking back at the repertoire of dishes I've created over the years, I'm always drawn back to the classics, those simple yet refined dishes with my own twist," says Chef Hawksworth. "I think it's what we all need right now – classic, evocative, robust flavours in dishes created with great care and attention to detail."
Signature dishes from Hawksworth's early menus remain such as the Hawksworth Burger ($25), on the same housemade bun, but with a new special sauce and popular dishes like the Crispy Duck Salad ($22) and KFC ($12) have returned. Other classics include the Pea and Ricotta Ravioli ($25), Steak Tartare ($25), and Chicken Supreme ($36).
Demonstrating a deep appreciation for local ingredients and insistence on only the very best quality, Hawksworth continues to work with a network of trusted suppliers, foragers, fisherman and farmers who contribute to a range of compelling dishes including new seasonal Halibut ($37) served with clams, mussels, roasted tomato, fennel and garlic baguette, from local supplier Finest at Sea with an abundance of fresh produce from longtime partner Zaklan Heritage Farm showcased in dishes throughout.
The new menu would not be complete without dessert, and the restaurant is excited to offer delicious and comforting dessert items including Caramel Cardamom Pot de Creme ($12) and Apple Tart with soft almond praline, vanilla bean ice cream ($12) from acclaimed Pastry Chef Wayne Kozinko, who has been a part of the team since opening.
With value and quality leading the way Hawksworth Restaurant will offer the same menu for lunch and dinner alongside daily 'cocktail hour' from 4pm to 6pm and a special "Taste of Hawksworth" three course tasting menu at lunch priced, for a limited time only at just $20.20 in celebration of the reopening.
Hawksworth Restaurant continues to uphold the highest standards of safety and hygiene and has recently added government-sanctioned precautionary measures to keep diners, staff and the community safe and well, learn more online here. Open everyday from 11:30am to 10pm – reservations are recommended as space is currently limited at 50% capacity and can be made online or by calling 604.673.7000 today.
Note to media: Supporting image bank accessible here