Chef Phil Tees brings a circular, sustainable approach to 1909 Kitchen + Bar at Tofino Resort + Marina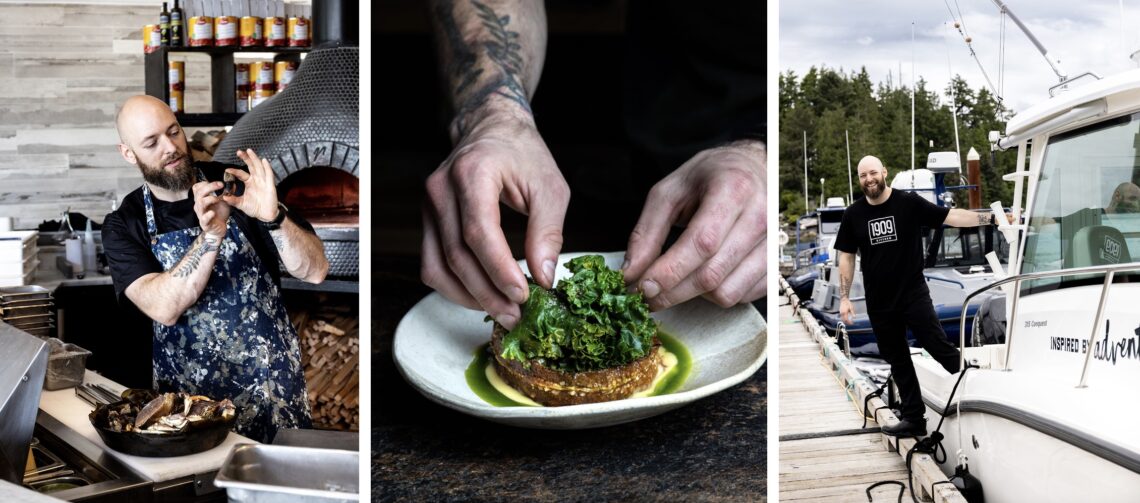 With a passionate no-waste approach to cooking, Chef Phil Tees takes the helm as Executive Chef of 1909 Kitchen + Bar. Having honed his culinary skills in all corners of Canada, including his home city of Montreal, Nunavut and the Northwest Territories, Banff and the Okanagan Valley, Tees has developed a philosophy that promotes zero waste by applying fermentation techniques to surplus ingredients as well as curing, dry-ageing, pickling and other methods of upcycling food.
"I'm so excited to be in Tofino, surrounded by such incredible natural beauty – it's so inspiring," says Tees. "I can't wait to discover what's in the waters and surrounding forests and farms that's not usually sought after by chefs, how we can use it in the kitchen to create, season and enhance delicious dishes for our guests."
An avid adventurer and passionate about spending time outdoors, Tees was a natural fit for the Executive Chef role at 1909 Kitchen + Bar. "We were looking for someone who didn't just bring exceptional culinary skills to the team, but someone who aligns with our brand ethos and understands why a sustainable approach is vital to the future of our industry, while also creating an engaging and social dining experience for our guests," says Willie Mitchell, managing partner of Tofino Resort + Marina. 
Chef Tees credits his time at Restaurant Hvor, Montreal, once home to the largest urban garden in Canada, for first igniting his interest in upcycled food. Through close relationships with local farmers he encouraged them to bring him produce that other restaurants wouldn't buy, realizing that misshapen fruits and vegetables or those that are bruised or overripe can taste just as good, sometimes even better when turned in to miso, kombuchas and other delicious ferments that he used to season dishes.
Working in the kitchens at The Frobisher Inn, in the remote outpost community of Iqaluit, on the shores of the Labrador Sea in Nunavut and at the Explorer Hotel in Yellowknife in the Northwest Territories close to the Arctic Circle, Tees continued to develop skills and explore opportunities to work with bycatch, species that were caught alongside more popular Canadian staples, such as lobster and king crab, which have a minimal perceived value but can taste delicious when prepared with thought, creativity and care.
In the Rocky Mountains, at the elegant 1888 Chop House at the Fairmont Banff Springs Hotel and Canadian Mountain Holidays in the role of Chef de Cuisine and most recently west to the Okanagan Valley as Regional Executive Chef, Southern States for the Mark Anthony Group (Road 13 Vineyards, Checkmate Artisanal Estate Winery and Liquidity Wines) Tees spent time perfecting classical techniques as well as learning the vital inner workings of resort dining and events.
In his new role at 1909 Kitchen + Bar, Chef Tees continues to embrace local, upcycled and wild foraged ingredients to create delicious restaurant and event menus. Food is casual yet refined – the freshest seafood and the best ingredients from Vancouver Island's ocean, shorelines, forest and farms, shining a spotlight on sustainability. 
To learn more, see the new summer menu or make a reservation, visit www.tofinoresortandmarina.com.