Chef Phil Tees' New Summer Menu Shines a Spotlight on Sustainability at 1909 Kitchen + Bar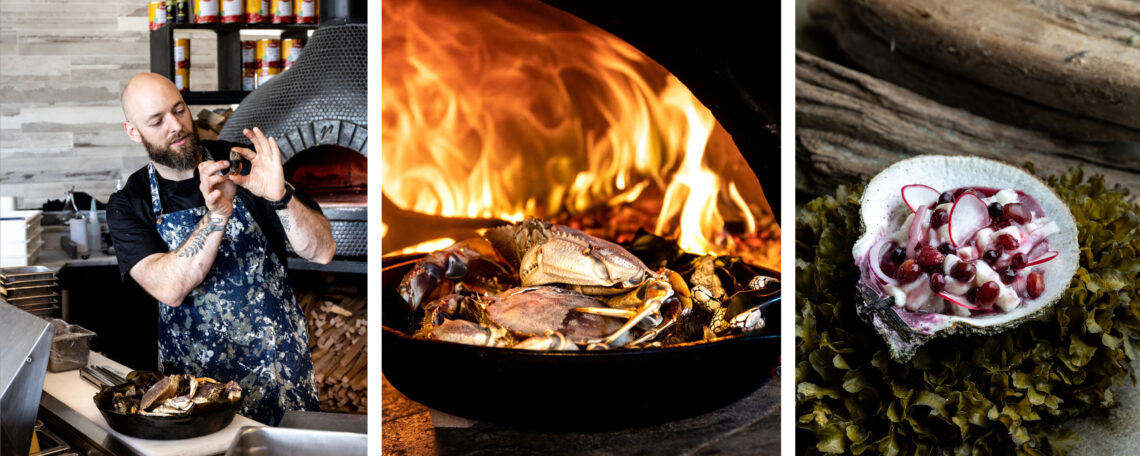 Surrounded by 300-degree views of the magnificent Tofino Inlet and islands, 1909 Kitchen + Bar at Tofino Resort + Marina unveils a delicious summer menu, under the guidance of new Executive Chef, Phil Tees. 
With a passionate no-waste approach to cooking, Chef Tees' new menu continues the resort's commitment to sustainability, placing a priority on partnerships with local fishermen, farmers and producers as well as shining a spotlight on lesser-known cuts and ingredients often passed over by other chefs. Dishes prioritize Vancouver Island ingredients, wild-foraged and locally-sourced prepared with thoughtful techniques and enhanced by the addition of preserved, cured and pickled accents.
"This menu has been a process of discovery," says Chef Tees. "It's so exciting to be exploring a new destination, discovering what ingredients are available to us locally and how we should best use them to maximize their flavour potential. We are proud to showcase the love and care of many local partners including fishermen from Tofino's First Nations community, Outlandish Shellfish Guild, wildflower honey Friedrich's in Cedar and the Tofino Ucluelet Culinary Guild. We can't wait to share a true, delicious taste of Tofino with our guests this summer, while honouring our resort's seaside location and reducing our environmental impact."
Summer menu themes celebrate the best of land and sea, as well as a dedicated vegetable section and 1909 Kitchen + Bar's signature pizzas, baked to perfection in the restaurant's Mugnaini wood-fired oven. Highlights include Halibut Rack for Two, with caper and miso butter sauce (MP); Swimming Scallops with harissa and garlic butter ($23); Overnight Lamb Ribs from SunGold Specialty Meats with a miso honey glaze, pickled peach butter and mint ($27) and Broccolini Tonnato ($21) – wood-fired and accompanied by a sauce made from the resort's own canned albacore tuna.
Chef Tees honed his culinary skills in all corners of Canada, including his home city of Montreal, Nunavut and the Northwest Territories and most recently in roles at Fairmont Banff Springs Hotel and the Mark Anthony Group in the South Okanagan. His love of the outdoors and dedication to creating menus that speak to a sense of place, while prioritizing sustainability through a no-waste approach to cooking make Chef Tees a natural addition to the team at Tofino Resort + Marina.
To learn more, see the new summer menu or make a reservation, visit www.tofinoresortandmarina.com.
Supporting images for media can be accessed here. Credit Leila Kwok.