Hawksworth announces new relationship with Tofino's Nuu-chah-nulth Fishers, part of the Five Nations Fishery, to bring wild BC salmon to diners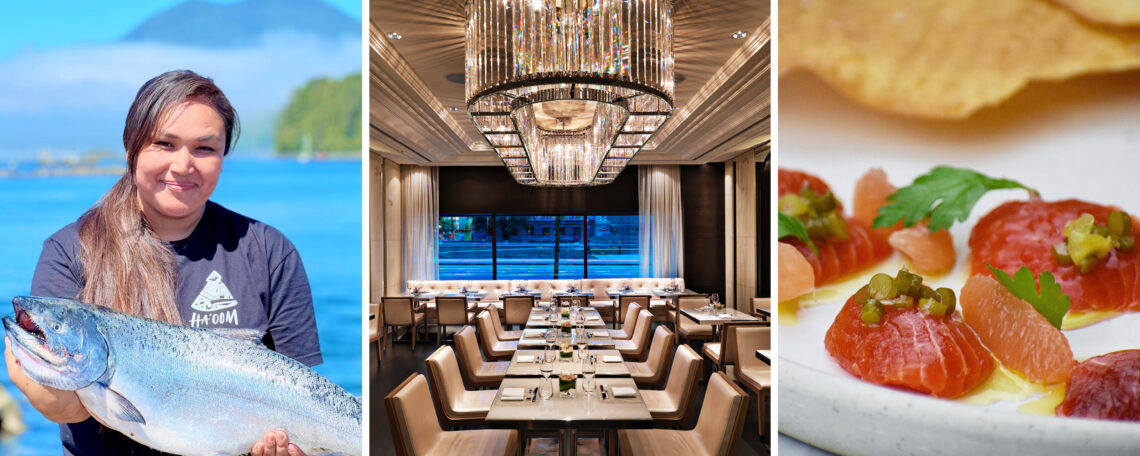 Vancouver's celebrated Hawksworth Restaurant is excited to announce a new relationship with the "Five Nations" Nuu-chah-nulth fishery that will guarantee only the very freshest and best, wild, line-caught BC chinook salmon will be served on its menus, direct from the docks and the pristine territory of the Tla-o-qui-aht First Nations (Tofino).
"We are so excited to be able to receive day-boat, line-caught fish directly from the docks for the first time. When the product is this fresh, it's really hard to beat," says Chef Hawksworth. "We are committed to finding the best products to share with our guests, finding amazing local ingredients to work with is so inspiring for our kitchen team and I encourage everyone to come and try this before the season is over."
Chinook, the largest species of Pacific salmon, are renowned globally for their velvety texture and large soft flakes, the higher fat content also results in a luxurious mouth feel and delicate flavour. Featured plates at Hawksworth currently include the B.C. salmon crudo, lightly cured in-house and served with fresh grapefruit, Italian olive oil, and housemade lavash; where the natural flavours of the fish are accentuated to deliver the irresistible flavours and textures of the indigenous fish. The exquisite suuhaa (Nuu-chah-nulth for chinook or spring salmon) is caught by fisher Lacey Adams of the Ehattesaht & Ahousaht First Nations.
"For generations, the Nuu-chah-nulth peoples have lived, fished, and traded from the pristine waters of BC's Pacific Coast," says Adams. "Today, as part of the Five Nations' rights-based Aboriginal fishery, we are thrilled to be able to continue to harvest many wild seafoods. I am excited about this new relationship and to be able to share my catch with Chef Hawksworth and his guests."
Hawksworth looks forward to expanding the partnership with Adams and other Five Nations members, to bring more sustainable items to its menus including prawns, crab, halibut, ling cod, and gooseneck barnacles. For more information and view current menus visit www.hawksworthrestaurant.com.
Hawksworth Restaurant is open for lunch Monday thru Friday from 11:30am until 3:00pm, with dinner service offered daily from 3:00pm until late. Reservations are highly recommended and can be made online at www.hawksworthrestaurant.com or by calling 604-673-7000. Follow @hawksworthrest for the latest updates, on Instagram and Facebook.
Supporting images for media can be accessed here.