David Hawksworth welcomes new investment partner Richard Jaffray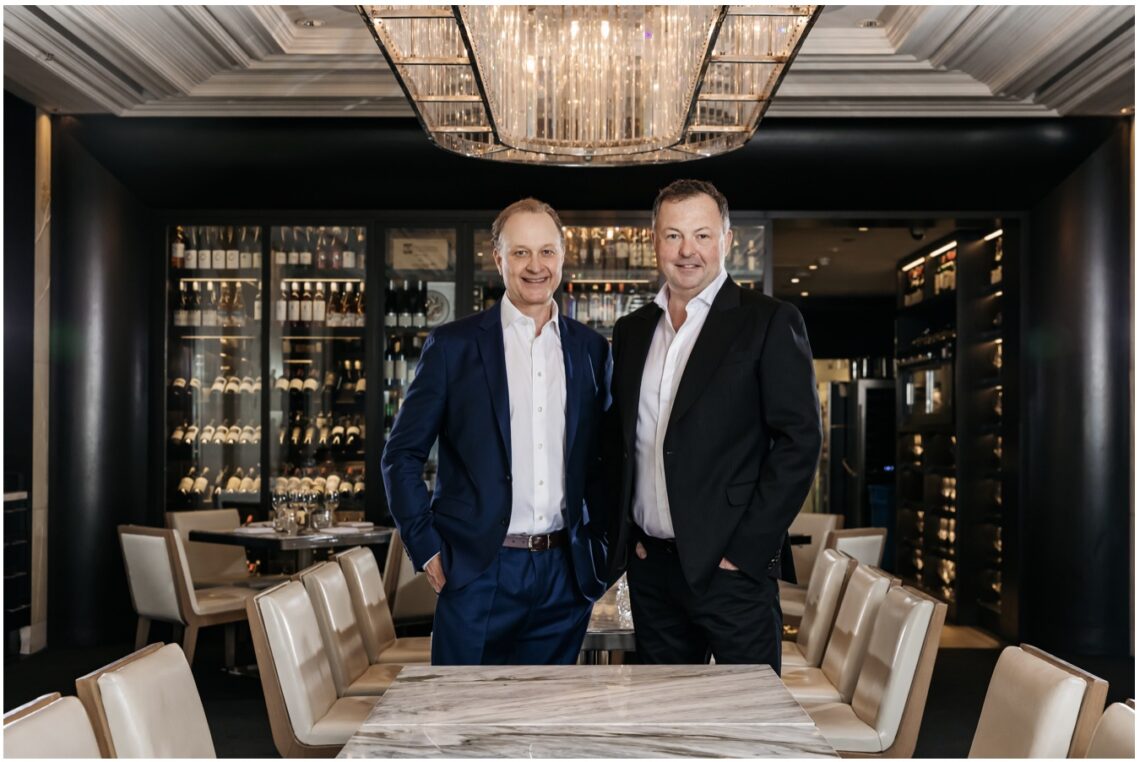 Hawksworth Restaurant Group announced today that nationally recognized restaurateur and business leader Richard Jaffray has secured a financial interest in the acclaimed restaurant group.
Hawksworth Restaurant Group was established in 2011 through a partnership between Chef David Hawksworth and Singapore-based Georgia Properties Partnership (GPP). After a successful 11 years, GPP has sold its stake in the business. Under the new ownership structure, Chef Hawksworth's lead role with Hawksworth Restaurant Group will remain unchanged.
"I am eternally grateful to Chairman Tony Hii and the entire team at Georgia Properties Partnership for helping me realize my dream of opening my own restaurant. I wish them well in their future endeavors and thank them for being such supportive partners during our time together," says Chef David Hawksworth. "I now look forward to drawing on Richard's hospitality expertise."
Jaffray brings over three decades of hospitality industry experience and will offer a fresh perspective to Hawksworth Restaurant Group through his role as capital investor and advisor.
"I've had a lifelong passion for the restaurant industry, and I've always had tremendous respect for Chef David Hawksworth and Hawksworth Restaurant Group's many accomplishments," says Richard Jaffray. "I'm looking forward to adding value and contributing to the team's continued success."
Hawksworth Restaurant at the Rosewood Hotel Georgia was recently celebrated by Forbes Magazine as one of the best restaurants in the world. The group also includes popular concepts such as Nightingale and Bel Cafe. Additionally, as Air Canada's featured culinary partner, Chef Hawksworth continues to redefine business class and signature suite menus, recently celebrated with "World's Best Business Class Lounge Dining" from Skytrax World Airline Awards. 
-30-
About Hawksworth Restaurant Group
Led by Chef David Hawksworth, Hawksworth Restaurant Group comprises leading restaurants and cafes including the highly acclaimed Hawksworth restaurant, located in the heart of the city and the more casual Nightingale restaurant in Coal Harbour. The group operates two Bel Café locations in downtown Vancouver and the Kitsilano neighbourhood. In 2015 Chef Hawksworth became the culinary partner to Air Canada engaged to design Canadian-influenced seasonal dishes exclusively for Air Canada flights in International Business Class, Maple Leaf Lounges and the Signature Suites. Chef Hawksworth published his first cookbook in 2021, and in 2008 Hawksworth became the youngest chef inductee into the BC Restaurant Hall of Fame. For more information visit www.hawksworthgroup.com.